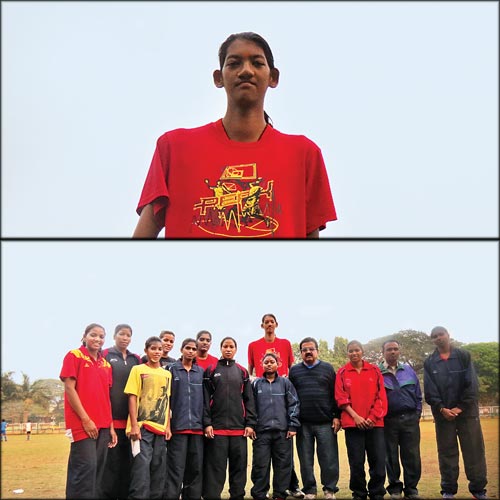 Wherever she walked, she made heads turn and necks crane. Standing head and shoulders above the rest at 6 foot 11 inch, Poonam Chaturvedi was easily noticed. And her height helped her move from Kanpur to Indian women's basketball team and now she is the tallest woman hoopster in the country.
Her strength: To stand and dunk effortlessly. You don't need to jump if your opponents cannot even reach your chin.
Though she was born and brought up in Uttar Pradesh, 18-year-old Poonam represents Chhattisgarh. While her height must have made basketball an easy choice, life has not been a cakewalk for her. Due to a malformed upper lip, she cannot speak properly and suffers frequent headaches.
"She has had two operations, she could not even speak when she was a child. There will soon be a third operation," says Chhattisgarh coach Rajesh Patel. Talking about her height, Patel stresses on its disadvantages. "She cannot dribble that much as the ball won't bounce up till her desired level. She will have to bend down to move along with the ball."
Poonam is in the city with the Chhattisgarh team for the Savio Cup tournament being played at the Don Bosco school, Matunga.
"Impressed with her height, I brought her to Bhilai four years ago. She had not played any sport before and could barely run a few metres. However, she showed massive improvement in seven-eight months," says Patel, who first saw her at the National Women's Games in Chhattisgarh (2010). She was 15 that time and was 6 feet 5 inches tall.
"She needs to be fitter and gain weight," adds Patel, in whose academy Poonam stays along with 20 other players.
"In Chhattisgarh, people were curious about her. Many even thought she has some hormonal problem. But they were all pleasantly surprised when informed that she is a basketball player.
She proved to be a big boost for the sport in the state. She attracts attention and that helps popularise the sport," Patel says
Poonam says her height is hereditary. "Most of my family members are tall. Both my parents are above six feet tall."
Apart from difficulties like sitting in a car, having to duck everytime she enters a room and finding a bed she can fit in, she has difficulty finding a pair of shoes. "I wear 14 size shoe," she says. "Not easy to find."
Poonam is taller than some of the NBA stars like Muggsy Bogues, but she does not have any favourite.
"I don't have any favourite basketball player. Not even from NBA. I just want to be a good player myself," says Poonam, who started playing the game since 2009 after passing out the tenth standard in school.
So why did she change base to Chhattisgarh? "Nobody bothered in UP. I am learning better here."
Talking about the opponents and the way she can intimidate them, she spoke how the defenders are wary when she is around the circle. "The players try their best to guard me."
But Poonam feels that "too much height creates problems and there should be a balance, there should be performance and fitness too."
The head coach of India's senior women's national basketball team Francisco Garcia is also impressed with the girl. "It is a test for the defenders when Poonam is around but I think she lacks intensity. She needs to do more."
On the other hand, Scott Flemming, head coach of India's senior men's national team, says, "I think it is amazing that a woman player in India can single-handedly score 20-30 points. She just needs to stand there and the job is done."