SA Gojukai Association prez says police used to torch karate schools for teaching blacks during the era.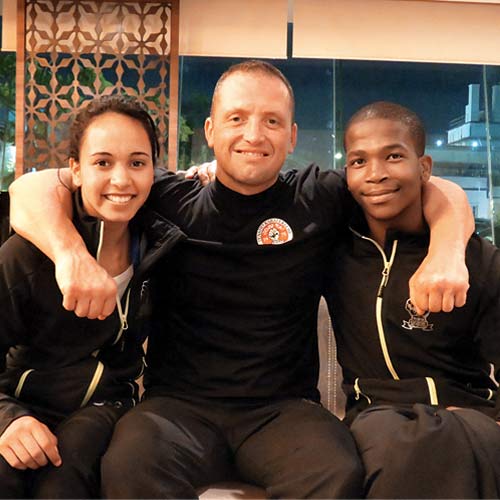 Madiba (as Nelson Mandela is fondly known) is a thought, a way of life. Though he will be laid to rest in his ancestral village in Qunu on Sunday, many still believe that his hands will hold the reins again if needed. One of them is Frank Brandon — President of South Africa Gojukai Association — who is heading the South African contingent in the sixth Tata Karate-Do Gojukai World Championship at the NSCI here.
"His struggle for 27 years made our country what it is today. If required, he will do it again, in another form. His concern was for the people of South Africa, not a black or a white," he said.
As a white child, he grew up witnessing the atrocities of the apartheid era along with his father Peter, who taught karate despite knowing that the law did not allow it.
"My father started teaching in the township (now Cape Town) in 1968. He was the first non-black teacher then. Those days you could get locked-up for teaching the sport in the township," said Brandon.
He heard these tales from his father, who was close to Madiba and other members of African National Congress (ANC). "Some of the ANC members were his students. People connected to Madiba were connected to us."
The 42-year-old recalled his father used to train the blacks secretly in his school.
"A lot of them (blacks) used to train at our dojo (the karate school) and there have been times when classes were disrupted by police, who came to check if black were training there. The blacks usually hid on the roof during such checks. When I was eight, I even saw a policeman set a dojo on fire," he said.
The racial discrimination was rampant even when they were on tours. "In tours, the whites and blacks used to be separated. While whites were put up in a hotel, the blacks would sleep in the team bus. However, we too would sleep in the same bus because the blacks were our people and we wanted to be together."
Once the apartheid ended in South Africa, the racial lines blurred and they all could train together. Going back to Madiba, Frank said that being close to the ANC made things easy for his father as a teacher. "He could enter places under curfew and remain unscathed. Such was the respect Madiba had earned for himself," he said.
Brandon said he is elated to be at the NSCI which he believes is spreading harmony and brotherhood among different nations. There are 160 competitors from South Africa in this tournament.