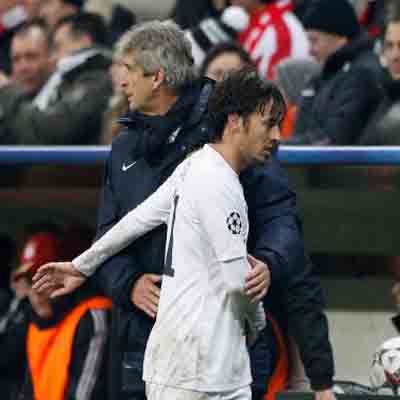 'Merlin' David Silva reckons Manuel Pellegrini has taken Manchester City to another level.
Manchester City midfielder David Silva, who has been dubbed 'Merlin' for taking the club to the brink of Premier League title with his magic, has said that it is boss Manuel Pellegrini who has taken the club to another level.
Silva said that he is aware of being called 'Merlin' as Queens Park Rangers' Shaun Wright-Phillips gave him the name after one particular game, adding that he knows all about the midfielder an he likes the tag.
However, Silva added that it is Pellegrini who has made City a happy place, by bringing a joy and happiness around the club and also to their style of play, having made the squad more attack minded, the Daily Star reported.
The Spaniard said that Pellegrini has made the City squad competitive in every competition, adding that he has given them that extra push which has taken them further in the competitions.
Silva also said that the Chilean has added his calmness to the whole club, which really helps them at difficult moments, adding that it is nice to have that calm attitude around when things get tough.
City have just have West Ham United to face in the Premier League title decider and if Pellegrini's squad even draws the game at home they would become the Premier League title winners for the second time in three seasons, the report added.