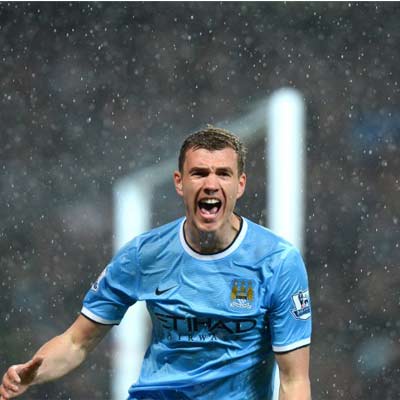 Manuel Pellegrini's men move closer to Premier League glory after a thumping 4-0 victory over Aston Villa. Manchester City, previously in the 2nd spot of the table, had a match in hand to cover up the points gap with Liverpool. With Liverpool crucial 3-3 draw with Crystal Palace became a ray of hope for Manchester City. They hosted Aston Villa last night at the Ethiad Stadium, and a victory would see them 2 points clear on top of the table.
It was an important match for Pellegrini's men as it was a golden opportunity to capitalize on Liverpool's draw. The first half against Aston Villa was a difficult one for Manchester City as the failed to get past Villa's defense and break the deadlock. City had to wait until the 64th minute of the match to score a goal. Edin Dezko tapped in the ball provided by a low pass inside the penalty area by Pablo Zabaleta. Dezko doubled the lead for the hosts at the 72nd minute, scoring the goal off a shot by French international Samir Nasri, which was initially saved by Aston Villa goalkeeper Brad Guzan. The two goals by City no.10 was a double delight for Pellegrini. Dezko missed out on a hat trick as he was substituted on the 86th minute for Spainard Alvaro Negerdo.
Manchester City added the third goal of the match in the 89th minute of the match, Stevan Jovetic being the goal scorer, along with Yaya Toure being the architect of the goal. Yaya Toure, being the creator of City's 3rd goal put himself on the score sheet in stoppage time. Toure scored a fantastic goal, as he started the run in his on half, ran past Aston Villa's midfield and put the ball into the net.
Yaya Toure's stoppage time goal was Manchester City's 100th league goal of the campaign. Last night's victory has taken the Premier League away from Liverpool as a single point is enough to see Manchester City lift the Premier League title.