Silver medal winning Malaika's father was keen about her interest in sport and even built a pistol range at home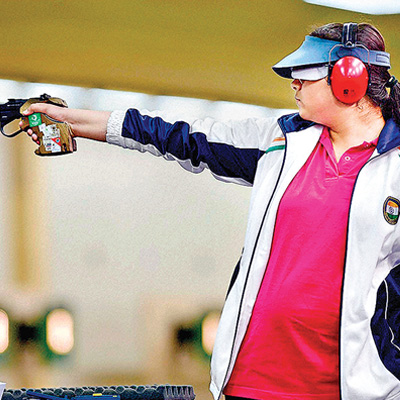 She is not allowed to drive a car; rarely travels out alone. She is neither obsessed with her mobile, nor is she a Facebook junkie. She is the one you will hear more about in the coming year. Even in a team, full of young shooters, she is a baby, not just for the Indian team, but also for her mother, Amarpreet, who wants to give her a peck on the cheek, first for her achievement and then for the cameras.
That's Malaika Goel for you. All of 16, who turns 17 not before October 23.
For a teen, who took to shooting seeing and idolising many of the stars she now shares corridors with, Malaika also achieved the unthinkable – beating her own idol, Heena Sidhu, in the first big international competition, who till recently was the world No. 1 in the 10m Air Pistol.
Malaika's life has been unlike most others of her age. So obsessed was she with shooting and so good was she at it, that parents acceded and decided to give 'home schooling' of sorts and she stopped going to school a little after Class VI.
Her father is a senior police officer from Punjab and when he saw Malaika was so interested in shooting, he accepted it. As a police officer, who loved sport, he wanted his daughter to follow some sport and it was going to be shooting.
"I always wanted to shoot. It was not a hobby or just like that. I wanted to do that professionally, as a sports person," she says. Her doting dad ensured a pistol range at home.
Her mother and Malaika recall that four years ago, when she was still barely 12, she was obsessed with watching shooting at the Delhi Games. "I just loved watching every sport, but shooting was my favourite.
The same thing happened when London was hosting the Olympics.'
Malaika's start was not all that great. She was only fourth, but she realised she had a chance. "When I was selected for Commonwealth Games, my goal was to improve my scores. And here I was with a medal," says Malaika.
"I hadn't started well in the qualification, I just couldn't settle down and qualified fourth. But because qualifications were poor, I knew I had to do something in the final," she says.
But in the final, she was something else. She led from the beginning. She was ahead after three shots, she stayed there on top after six and then after eight and she was still there after 10, the midway point by which time the elimination process had started.
She saw her idol and senior teammate, a favourite for the gold crash out as seventh, but did not let that disturb her concentration.
She kept her nose till the end of the 16th shot, but a 9.2 on her 17th saw her slip and Singapore's Shun Xie Teo inched ahead. Malaika had 9.2 and 10.2 in her 17th and 18th, while Teo shot 10.7 and 10.0. By the end of that Malaika was sure of a silver and the gap between her and leader was 0.8 points.
On the last two shots, Malaika scored 9.2 and 10.0, and Teo logged 9.9 and 10.0 for a total of 198.6 to Malaika's 197.1 points.
A silver it was. But only for the time being. For being this, there is more than a silver lining for teenage superstar.
"I never wanted to beat Heena didi, I just want to learn from. It was almost a shock finishing ahead of her. I have so much to learn and improve," she said with humility, that is not going unnoticed among her teammates, who were gushing about her.