The 25-year-old scored his first Test century as he hit 118 emerging as a player for the future.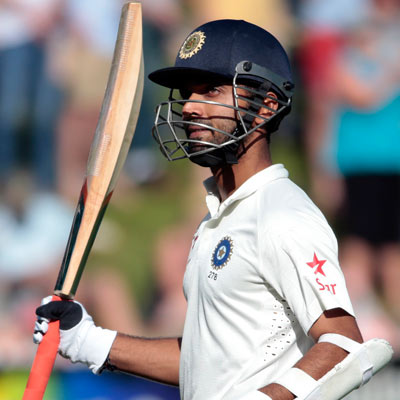 On Saturday, Ajinkya Rahane helped India put up a big score after they managed to bowl New Zealand out yesterday for less than 200 runs.
Rahane scored his maiden Test hundred as he finished with 118 runs. India scored 438 runs in their first innings and had a lead of 246 runs.
Before this Rahane's best score in Test cricket was 96 runs, which he made against South Africa in Durban. First with his partnerships with Virat Kohli (38) and MS Dhoni (64) Rahane played sensibly and then batting with tail enders, the Mumbai boy played some fluid and strong shots and strokes.
If Ishant Sharma was the man of the day on Friday, then Saturday well and truly belonged to Ajinkya Rahane. In his post match press conference, the batsman thanked Rahul Dravid under whose guidance he played in the IPL at Rajasthan Royals where he is known to play some awesome knocks. The Mumbai lad also thanked Sachin Tendulkar who he said advised him about his playing style and batting.
A moment of great pride for Rahane, this was well and truly the day that he arrived on the big stage as he played with promise for the future.
Watch a video of Rahane's knock:
On Twitter, Rahane replaced Sharma as the man most talked about. Fans celebrated the batsman's coming of age on the social sharing site. Here are some interesting tweets,
Calm demeanour, unflappable, almost zen like in celebration - the birth of a low centre-of-gravity achiever, Ajinkya Rahane!

— n jayakumar (@jakesprime) February 15, 2014
Well played Ajinkya Rahane. Real talent can never be kept down for long.

— Sidharth Dassani (@sidharthdassani) February 15, 2014
One of the better hundreds from a young Indian batsman overseas. Well played, Ajinkya Rahane. #NZvsInd

— Dileep Premachandran (@SpiceBoxofEarth) February 15, 2014
Ajinkya Rahane what player what calibre when pujara kohli failed he went out to make hundred #RESPECT

— shivam (@supershivam03) February 15, 2014
I see shades of Rahul Dravid in Ajinkya Rahane, says Martin Crowe. High praise for the Mumbaikar who scrd his frst Test ton today" Kudos :-)

— Gopal Chowdary.A (@thatsgopal) February 15, 2014
Very happy to see a hardworking cricketer like Ajinkya Rahane score a Test hundred. Hopefully, plenty more to come @ajinkyarahane88

— Kunal Purandare (@kunaljp) February 15, 2014