Of all Madhav Krishnaji Mantri's contributions to Mumbai and Indian cricket, which he served with distinction as a player, manager, selector and administrator, the most poignant has got to be inspiring his nephew to take up the game. Minutes after attending the cremation of his beloved 'Nana mama' on Friday afternoon, an emotional Sunil Gavaskar paid glowing tributes to one of the kindest souls that ever lived...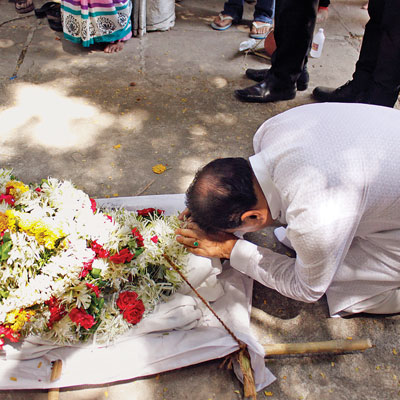 I never knew this day would come. I thought he was indestructible. He was a disciplinarian. He was, perhaps, the last of the disciplinarians left. The way he lived his life, he seemed indestructible.
When would go to work at 8:30 am, people would set their watches accordingly. That's how disciplined he was. I was never that disciplined. But his methods had an impact on me and my batting.
As a boy, I spent several nights in his Dadar home. His cupboard was a treasure house of caps and sweaters. There was the India cap, the Mumbai Ranji Trophy cap, the ACC (Associated Cement Company) cap among others. He had owned several sweaters, and wooly ones at that. One day, I asked him if I could have his India cap. "No, you can't," he told me, categorically. "You will have to earn this cap through hard work and determination." He repeated the words when I asked him for a sweater.
Years later, when I was picked to represent India in the West Indies in 1971, I got a cap and sweater. We played several warm-up matches before the first Test, but I didn't wear that cap or sweater even once. His words ("You've got to earn it") resonated with me. I kept reminding myself that I hadn't played a Test match yet. And so, I had no right to wear the India cap. I only wore it when the captain named me in the XI.
During my junior days, I scored 280-odd in an inter-college match. Ramesh Nagdev and I added 400 runs. After stumps, I went up to mama and told him about my knock. "How did you get out?" he asked me. I told him I played a lofted shot and was caught at the deep midwicket boundary. "And your partner?" he shot back. He's batting on 300-odd, I replied. "Never ever gift your wicket to any bowler. The bowler isn't bowling you a full-toss or a half-volley. So let him earn your wicket," he told me. He did so much for me. I must say he was my inspiration.