The Uruguay player scored two goals in his club's 5-0 win.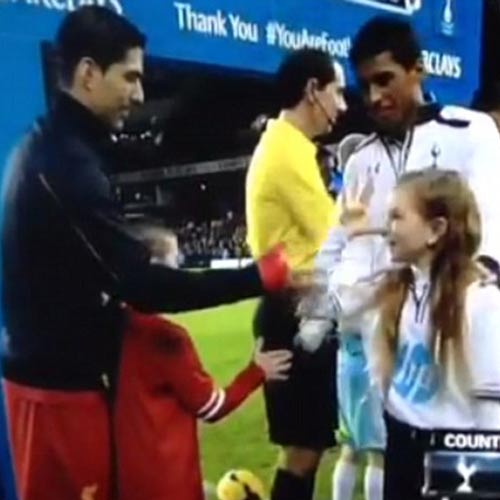 Luis Suarez was the man of the moment as he scored two goals in Liverpool's 5-0 win over Tottenham Hotspurs.
However, prior to the match in the handshake ceremony, the 26-year-old was subjected to a cock-a-snook from a young girl who was a mascot.
Suarez extended his arm to shake the hand of the Tottenham mascot but the girl pulled her hand away as she put her hands to her nose and made a waggle at him.
The girl went on to shake hands with Liverpool's goalkeeper Simon Mignolet after snubbing Suarez.
The YouTube video of the incident went viral with many people viewing it. Here is the video:
The Uruguay player was on song in his performance on Sunday night as he netted a double goal helping his team demolition of Tottenham Hotspur at White Hart Lane taking Liverpool back to second on the table.