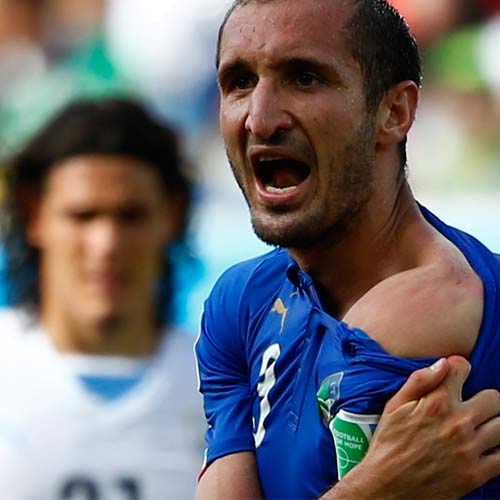 Uruguay striker Luis Suarez appeared to relish a piece of Italian Giorgio Chiellini's shoulder during the FIFA World Cup group D knockout game on Tuesday night .
Ten minutes before the end of the match, Suarez and Chiellini clashed in the Italian penalty area, where the latter was bit by Suarez on his shoulder. Uruguay's dramatic victory got added flair with thier striker being dragged into yet another biting scandal, his third in the last four years.
Suarez could be facing a two year or 24 match ban depending on the incident report by Mexican refree Marco Rodriguez.
Football fans took to Twitter to express their feelings about this 'bit' of news. Here are some tweets to give you a quick taste.
What a difference an 's' makes "I love eating Italian" (good sentence) "I love eating Italians" (bad sentence) #Suarez

— Gerry Dee (@gerrydee) June 25, 2014
I think #Suarez has a condition where he needs to feed off the blood of one defender every year if he wants a good 12 months. #BanSuarez

— Footie Writer (@FootieWriter) June 24, 2014
#Suarez how we see Italian food, how he sees it pic.twitter.com/kmsnM6nJMu

— telegraph_sport (@telegraph_sport) June 25, 2014
I'm not even following the soccer but this made me giggle! #Suarez pic.twitter.com/0KvG7T3kYW

— Jess Bovey (@jessbovey) June 25, 2014
Luis Suarez's latest piece of official merchandise. #Suarez #WorldCup2014 pic.twitter.com/l4jVFi5uUd

— BRENT HOOD (@brenthoodmusic) June 24, 2014
Hey @luis16suarez. Next time you're hungry just grab a Snickers. #worldcup #luissuarez #EatASNICKERS pic.twitter.com/3RAO537HjW

— SNICKERS® (@SNICKERS) June 24, 2014
There's a tasty new summer snack on the market from today… #Suarez #BanSuarez pic.twitter.com/J0JAyvVgnI

— Damien St John (@damientweet) June 24, 2014
Chew Trident. Not soccer players. #ITAvsURU

— Trident Gum (@tridentgum) June 24, 2014
New FIFA update hahaha #suarez pic.twitter.com/WWxg34i9yh

— D-Fish (@laneygurl16) June 25, 2014
Hahahahaha. I knew I could count on reddit to produce this! Tyrannosuarez Rex! #Suarez @fernmenezesc pic.twitter.com/OLTiV4sptp

— Casey Fonville (@fonvilio) June 25, 2014
BREAKING from #Brasil... #SUAREZ pic.twitter.com/AQiIfouRlT

— George Arsenal (@George_Arsenal) June 25, 2014
#suarez pic.twitter.com/YSrqpRuGA1

— Fartik (@RealFartShady) June 25, 2014
#Suarez The Walking Suarez! Season 3! He's back for more, and this time it's Italian he's hungry for! #ITAvsURU pic.twitter.com/ChU8dUzBDF

— Rurther (@Rurther) June 25, 2014
Bringing this back. Always relevant. #suarez pic.twitter.com/WlPmgvOHn9

— Steph Marshall (@StephKMarshall) June 24, 2014
Hahaha Every Football fan must see this #Suarez pic.twitter.com/1tCiSXJhMt

— ._wahla_. (@r0his) June 24, 2014
#suarez pic.twitter.com/voYNxP2k0K

— denmark (@denmark98) June 24, 2014
#Suarez. The teeth strike again. pic.twitter.com/viku2AtjUw

— The Illustrated Game (@IllustratedGame) June 24, 2014
Also read: How companies cashed in on the Luis Suarez's incredible bite saga