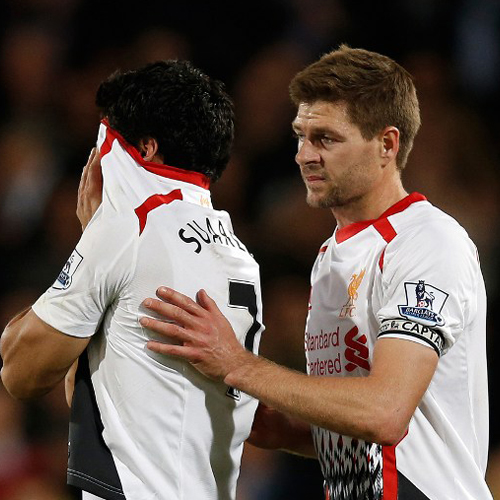 Liverpool striker Luis Suarez has reportedly defended his bad boy image saying that he fights, argues and kicks but he is not a diver and wants to get rid of his `bad-boy` tag.
The Uruguayan, who has a reputation that precedes him, is reportedly annoyed at having to fend off repeated accusations that he cheats to try and win penalties and free-kicks.
According to the Mirror, Suarez, who is racing to recover from a knee injury to be fit for the World Cup, claimed that all of his bookings are from other offences, questioning about the number of yellow cards he has received for diving. The Liverpool striker said that he has a lot of yellow cards in his career, but most of them are for arguing, fighting and kicking, but not for diving.
Suarez said that sometimes he falls, but it is to get a penalty because he has been kicked. A determined Suarez, who wants to change his image, has reportedly insisted that he has been provided with the perfect role model since returning in September from his ban for biting Chelsea's Branislav Ivanovic.
Suarez said that he wants to change the 'bad-boy' image that has stuck for a bit because he does not think that he is at all how he has been portrayed. Suarez added that he would like that to change because it is awful to hear and read what is said of one.