"Confidentiality is a virtue of the loyal, as loyalty is the virtue of faithfulness" - Edwin Louis Cole
Over the years, the world has seen players come and go, switch clubs and questions were asked regarding a player's loyalty, but amidst all this, there were few who stick to their roots and spent a major chunk of their career at a single club. Here is the list of the top 11 most loyal footballers.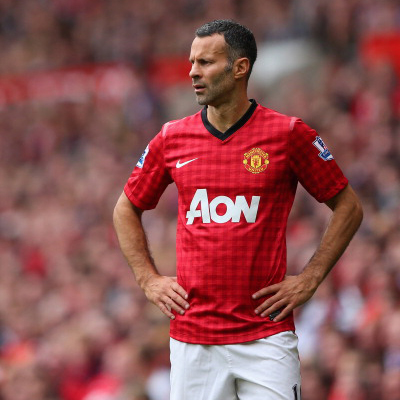 Getty
1) Ryan Giggs - Manchester United (1990-2014)
Ryan Giggs made ​​his Manchester debut in 1990. Magical, Spectacular, or just.. Ryan Giggs. The Welsh international joined the greatest club in England and one of the best in the world in 1987 as a member of United's youth team. Giggs has been so loyal and disciplined that he has avoided big offers from clubs without even considering it. The legendary United figure has appeared more than 930 times and scored over 160 goals. Since the inception of Premier League, Giggs has played in all the seasons, scored in all of them and lifted the title 12 times. He has tasted Cup success over 18 times, including two Champions League trophies in 1999 and 2008. With more than 30 individual awards and 3 honorary awards. The Manchester United No 11 is the most decorated footballer in history without any doubt, and was United's interim player/manager after David Moyes was sacked.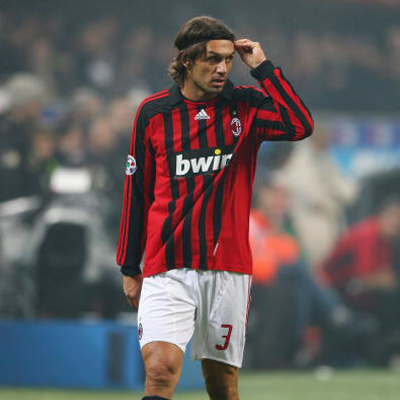 Getty
2) Paolo Maldini - AC Milan (1985-2009)
The legendary Italian, who featured in Milan's youth team from 1975 to 1985 and continued playing for them in the senior side till 2009, finally ended his 34 years service to Milan at the San Siro. He is arguably one of the most loyal players to ever play the game and is on par with the legendary Ryan Giggs. Maldini was a remarkable left-back, probably the best and played 647 matches and scored 29 times for AC Milan. After his retirement, Maldini was approached by several top clubs to be their manager, but it took no time for him to say no. He is widely regarded as a true leader, and therefore, nicknamed 'Il Capitano.' During the 25-year long career, he's won the Serie A 7 times and 5 European Cups with his beloved AC Milan.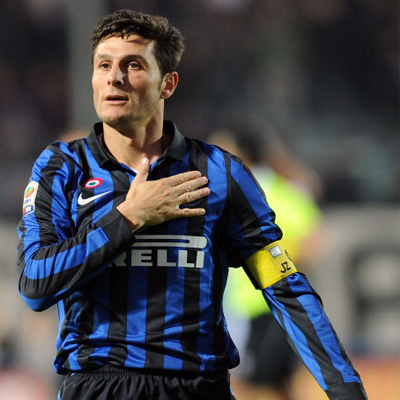 Getty
The armband Zanetti will wear tonight includes names of teammates, past + present #JZ4ever via @BotineroMilano pic.twitter.com/dXHmsYFvVJ

— James Horncastle (@JamesHorncastle) May 10, 2014
During his final game for Inter, Zanetti wore an armband with the names of every player he's ever played with and a simple message that said, 'Zanetti 4 Ever.'
3) Javier Zanetti - Internazionale (1995-2014)
A true legend, this Argentine left-back spent his entire senior career at Inter Milan. Javier Zanetti won 16 trophies in almost 20 years with Internazionale, with the most important being the Champions League he lifted that night in Madrid in 2010. Zanetti has appeared in more than 850 matches across all competitions for Inter. His durability and consistency regardless of the role he was asked to play, was one of the main traits of Zanetti. It was a dream for him to play that first game at the San Siro, and retire at his beloved Inter. He has realised both.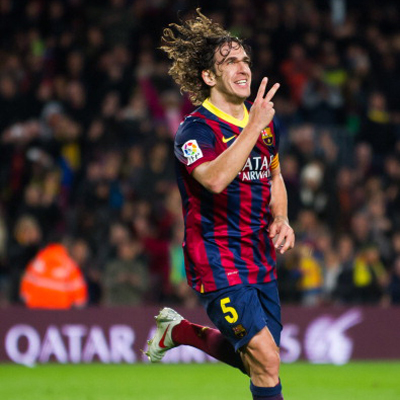 Getty
4) Carles Puyol - FC Barcelona (1996-2014)
One of the most respected players in Spain, Puyol has been a true Catalan since 1996. He was in the youth team during the early 90′s and made it his debut for the senior side in 1999. Puyol had maintained his position in the side with lion-hearted displays at the back till he retired in 2014. With over 10 individual awards and guiding Barcelona to 5 La Liga titles, he has 3 Champions League medals to his name.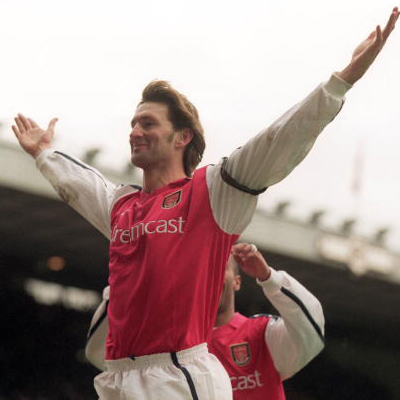 Getty
5) Tony Adams - Arsenal (1983-2002)
Tony Adams was one of the gretest defenders the English Premier League ha ever see. Quick, strong and a rock at the back, Adams spent his entire playing career of 22 years at Arsenal. He is considered to be one of the greatest Arsenal players of all time by the club's fans, and was included in the Football League 100 Legends. With Arsenal, he won 4 top flight division titles, 3 FA Cups, 2 Football League Cups, 1 UEFA Cup Winners' Cup, and 3 FA Community Shield's. A statue honouring Adams was unveiled at the Emirates stadium on 9th December 2011.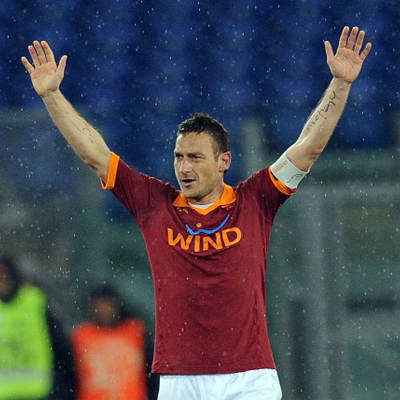 Getty
6) Francesco Totti - AS Roma (1993-present)
The captain of ASRoma, who has played over 650 matches and scored 278 goals in all competitions. Totti has over 15 individual awards, 5 domestic titles with Roma and 6 Ballon d'Or nominations to support his credentials. His undying love for Roma is second to none and has a special place in the hearts of all the AS Roma fans. Having rejected offers from several top clubs, Totti has continued to be the loyal captain of Roma. He is Roma's record top goal scorer with 223 goals and is one of the most loved athletes in Italy.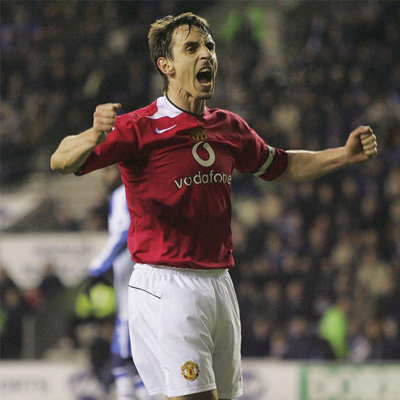 Getty
7) Gary Neville - Manchester United (1992-2011)
Neville spent his entire playing career at Old Trafford, making him a rare one-club man. He wasn't one of the best right-backs around, nor did he have the technical ability to be one, but his undying passion for Manchester United made him stand out. 5 goals in 400 games isn't bad for a right-back who spent his entire career at Manchester United, is it? Since retiring from football in the middle of the 2010–11 season, Neville has gone into punditry and is a commentator for Sky Sports. He is England's most capped right-back and was Manchester United's club captain for five years. At the time of his retirement in 2011, he was United's second longest serving player in the squad, behind his long-time team-mate Ryan Giggs. He made his international debut in 1995 and was first-choice right-back for club and country for more than ten years.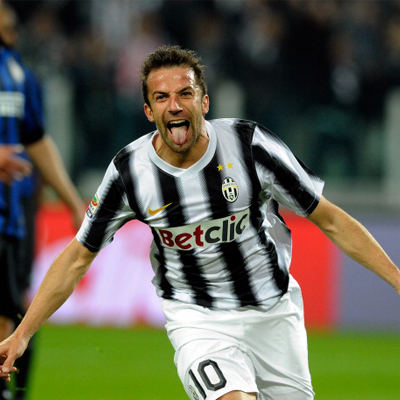 Getty
8) Alessandro Del Piero - Juventus (1993-2012)
A player who stood by his club through thick and thin. He is second place in the ranking of Italian all-time top scorers (342 goals, and behind only Silvio Piola, 364 goals). He played for Juventus for long 19 years(11 years as captain) and holds the club record for most goals(289) and appearances(705). Del Piero scored in all competitions in which he participated. He was named in the FIFA 100, a list of the 125 greatest living footballers selected by the legendary Pele as a part of FIFA's centenary celebrations. He was also voted in the list of best European players for the past 50 years in the UEFA Golden Jubilee Poll. After Juventus were relegated in 2006 being involved in a match-fixing scandal, most of Del Piero's team mates were heading out, but he decided to stay and lead the Turin side back into the Serie A.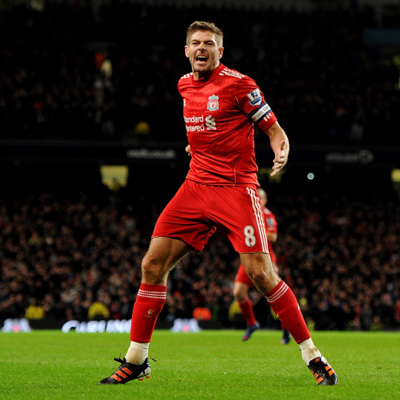 Getty
9) Steven Gerrard - Liverpool (1998-present)
After dominating English football for years, Liverpool's success has come to a standstill. However, amongst all the frustration, there was a player who lit up Anfield once more, and that was none other than England skipper Steven Gerrard. He has scored more than 150 goals for the Reds. He has single-handedly taken his side to major titles such as FA Cup, League Cup and the unforgettable Champions League victory in which he led the side in Liverpool's famous comeback victory in the '05 Champions League final against AC Milan. Gerrard has been approached by various clubs in his time but has refused to sign for any of them. The name and fame that Liverpool get today is only because of this star player.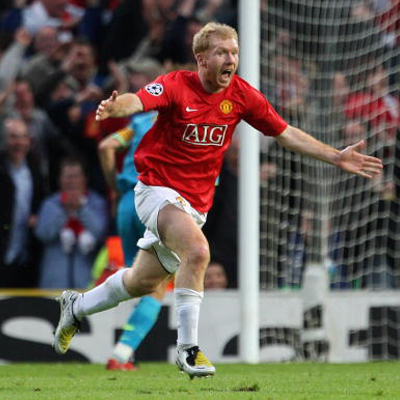 Getty
10) Paul Scholes - Manchester United (1993-2011, 2012-2013)
Described as the best midfielder of his era by Zinedine Zidane, the 'Ginger Prince' made ​​his debut for Manchester United in 1993 and later went on to become one of the greatest players to don a United jersey. He won 10 Premier League titles, 2 European trophies, 1 Club World Cup trophy and various other trophies including the League Cup, the FA cup and the Community Shield. Praised by peers and coaches for his vision, passing and scoring ability, Scholes is one of the young talents who flourished under the guidance of Sir Alex Ferguson. He was a part of the 'Class of 92', which was a group of young talents that included David Beckham, Gary Neville, Ryan Giggs, Phil Neville and Nicky Butt. The talented midfielder from England is said to be one of the best middle linebacker of his era. Retired in 2011, Scholes came back to help United stabilise their fragile midfield and agreed to stay in for one more year.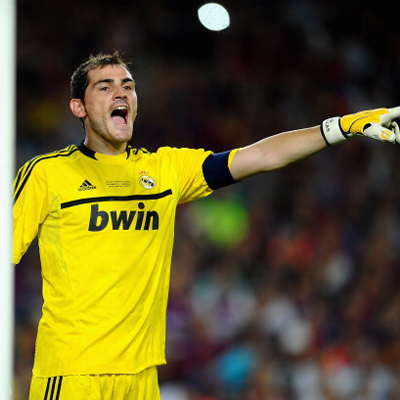 Getty
11) Iker Casillas - Real Madrid (1999-present)
Arguably, one of the best goalkeepers of all time, Iker has played for the Madrid youth side since 1990 until he made his debut for the senior side in 1998. Today, the Real Madrid captain is still determined to play for the all whites. Casillas, who has won 14 Titles for the club and more than 30 individual awards, is the most respected footballer in Spain. He has never been into any controversy and has always played in the spirit of the game. Currently injured, he's has had many issues with the club and management this season, but he's still a very loyal member of the Spanish giants. In 2008 he was the captain of the Spanish team that won their first European Championship in 44 years, the Spanish team that went on to win Spain's first World Cup (a tournament in which he won the Golden Glove also known as the Yashin Award) and the 2012 European Championship.