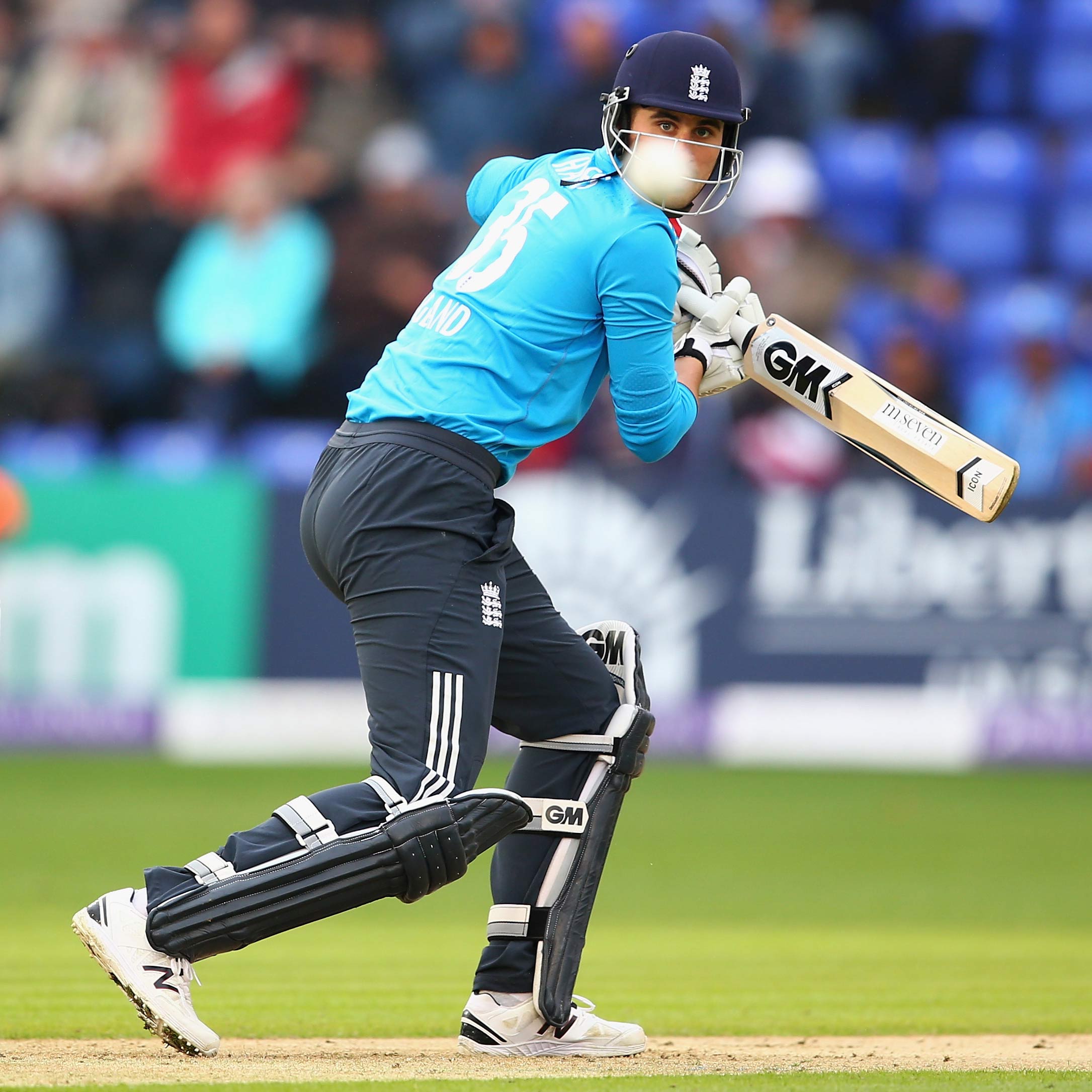 OUT! Another sweep by an English batsman brings a fat top edge that loops towards midwicket and is caught by the fielder coming in. England are 161 all out in 38.1 overs and India win by 133 runs on the D/L method. Suresh Raina and Ravindra Jadeja are the heroes for India. India go 1-0 up in the series with 3 ODIs to play.
22:35 IST Wednesday, 27 August 2014
OUT! Make it 4 wickets for Ravindra Jadeja. He has scalped Chris Woakes with a stumping. England 143/9
22:26 IST Wednesday, 27 August 2014
OUT! They are tumbling like a stack of cards now.....this time it's Chris Jordan, who is plumb LBW to centurion Suresh Raina. England 128/8.
22:22 IST Wednesday, 27 August 2014
OUT! Seven down! Ben Stokes goes high and mighty over the on side, cannot get the distance and holes out in the deep. Out for 23 off 29 balls. Jadeja strikes again, that's his 3rd wicket. England are now 126/7 after 32.4 overs.
22:12 IST Wednesday, 27 August 2014
OUT! It's Eoin Morgan who falls now, England are really staring at defeat. He slog swept R Ashwin and it landed straight into the hands of square leg. Morgan made 28 off 45 balls and England are 119/6 in the 30th over.
The asking rate is also over nine per over now, so it's safe to say that India are hot favourites to win. Or is it?
21:50 IST Wednesday, 27 August 2014
OUT! England are sliding away quickly here, Jadeja makes the breakthrough again! This time it's the wicketkeeper Jos Buttler. A simple catch to Kohli, Buttler made just 2 runs.
21:41 IST Wednesday, 27 August 2014
OUT! Alex Hales is gone after scoring 40. He got a top edge that looped to short long leg, off the bowling of Jadeja. 40 off 63 balls.
OUT! It's the turn of Joe Root to fall now. He has been dismissed by Bhuvaneshwar Kumar. Hangs back instead of coming on the front foot to a nippy delivery and is bowled for 4. England 63/3.
21:01 IST Wednesday, 27 August 2014
OUT! Ian Bell falls soon after! This was a beautiful delivery from Shami, it held its line and crashed into Bell's stumps, who left it alone! Bell out for one, England 56/2 after 11 overs.
20:55 IST Wednesday, 27 August 2014
OUT! Alastair Cook has been dismissed LBW by Mohammad Shami. England lose their first wicket with 54 runs on the board after 10.3 overs. Cook made 19 off 33 balls.
20:22 IST Wednesday, 27 August 2014
Play has resumed at Cardiff, and three overs have been knocked off. England will now have to make 295 in 47 overs to win this match. Currently, they are at 13/0 after 3 overs.
19:45 IST Wednesday, 27 August 2014
Rain has stopped play at Cardiff, but the covers are coming off now and the England innings should begin soon.
19:07 IST Wednesday, 27 August 2014
India have finished on 304/6 after 50 overs, with 13 runs coming off the final over. See you in 45 minutes for the second innings.
19:00 IST Wednesday, 27 August 2014
OUT! MS Dhoni is out after scoring 52. He swung wildly to the leg side and was bowled off the bowling of Chris Woakes. India 288/6 after 48.3 overs.
18:52 IST Wednesday, 27 August 2014
India have reached 281/5 after 47 overs, with Dhoni batting on 49 off 49 balls and Ravindra Jadeja having come in.
OUT! Suresh Raina is out. After scoring a brilliant century, Raina drove a full delivery outside off hard into the hands of deep cover. He made 100 off 75 balls. India 276/5 after 46.1 overs.
45.2 overs: That's a century for Suresh Raina off 74 balls. He taps a full toss outside off stump from Chris Jordan to long on and reaches the milestone.
18:19 IST Wednesday, 27 August 2014
62 runs were scored off the Powerplay as Suresh Raina really took off. India are now 222/4 from 40 overs. 300 looks likely, though at one time even 260 would have been a task.
18:00 IST Wednesday, 27 August 2014
India have reached 179/4 after 37 overs. Suresh Raina has just reached a half-century off 49 balls, with MS Dhoni providing him good support.
17:29 IST Wednesday, 27 August 2014
OUT! Rohit Sharma is gone, he advanced down the track and lofted the ball over the on side, miscued it and it landed in long-off's hands. 52 off 87. India 132/4.
OUT! Ajinkya Rahane is gone, he is stumped by the keeper off the bowling of James Tredwell. A promising innings has been nipped in the bud. Rahane made 41 off 47 balls.
India have reached 100/2 after 21.2 overs. Rohit Sharma is batting on 42 off 66 balls and Ajinkya Rahane on 36 off 39.
India are 71/2 after 16 overs.
15.1 overs Rahane hits a first-ball boundary off Jordan's over.
15 overs Sharma smashes Stokes for a SIX. India now 64/2 in 15 overs
13 overs 47-2 in 13 overs.
12.4 Rahane plays a straight drive through the middle of the bat to send the leather to the boundary ropes.
12.1 Ben Stokes is introduced into the bowling attack.
12 overs Chris Jordan gives away 5 runs.
11 overs 36-2
10.5 overs Sharma displays a fine shot with some terrific timing to send one more to the boundary.
10.2 overs Anderson to RG Sharma, FOUR. Sharma comes down the front foot to smash a boundary.
10 overs- The visitors are struggling to find rhythm. Rohit Sharma 8 off 27 balls, Rahane 4 off 5 balls.
8 overs- India look jolted as they lose two quick wickets for 21 runs in 8 overs
Ajinkya Rahane walks in at No.4
WICKET No.2 - Virat Kohli disappoints. He tries to take the aggressive option, comes down the pitch to Woakes and drives powerfully on the up but straight to Cook at mid-off.
WICKET 7.1 overs Dhawan gets caught behind by Jos Buttler off a Woakes' delivery. Scores 11 runs off 22 balls. Virat Kohli walks in to bat.
15:39 IST Wednesday, 27 August 2014
6 overs- single run taken by Dhawan of Woakes' over as bowling continues to remain tight. 12-0 in six overs.
15:30 IST Wednesday, 27 August 2014
4 overs - Shikhar Dhawan sends Chris Woakes' delivery to the boundary ropes taking the score to 9-0 in 4 overs.
England won the toss and elected to field.
England squad: Alastair Cook, Alex Hales, Ian Bell, Joe Root, Eoin Morgan, Jos Buttler, Ben Stokes, Chris Woakes, Chris Jordan, James Tredwell, James Anderson
India squad: Shikhar Dhawan, Rohit Sharma, Suresh Raina, Virat Kohli, Ajinkya Rahane, MS Dhoni, Ravindra Jadeja, R Ashwin, Bhuvneshwar Kumar, Mohammad Shami, Mohit Sharma