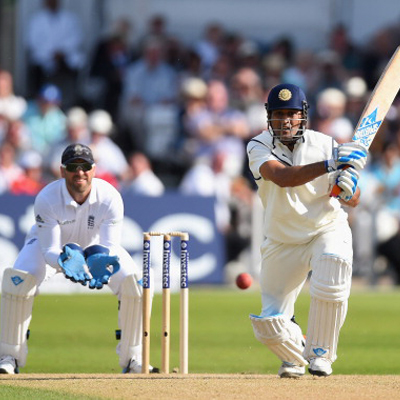 Team India will hope to keep up the momentum on the second day of the first test against England at Trent Bridge. For India, the reins will be in the hands of the overnight batting pair Murali Vijay*(122) and MS Dhoni*(50). India will look to continue the form and go after the bowling, without loosing too many wickets. On the other hand, England will be looking to draw strength from a lifeless pitch and restrain India to a total below 400.
SCORE
India 270/4 in 96 overs
MS Dhoni 52 (4x5)
M Vijay 131 (4x22, 6x1)
Overs 90-95 : 6 runs, 0 wickets
India 265/4
MS Dhoni 52* (82)
M Vijay 126* (306)
India 263/4 in 92 overs
M Vijay 126* (300)
MS Dhoni 50* (70)
Wickets:
Day One
V Kohli (1) (c Ian Bell b Stuart Broad)
C Pujara (38) (c Ian Bell b James Anderson)
S Dhawan (12) (c Matt Prior b James Anderson)
A Rahane (32) (c Alastair Cook b Liam Plunkett)
Test 1, Day 2
Toss: India, who chose to bat
Venue: Trent Bridge, Nottingham
Umpires: Kumar Dharmasena, Bruce Oxenford, Ian Gould, Rob Bailey
Referee: David Boon
India XI- M Vijay, S Dhawan, C Pujara, V Kohli, R Jadeja, A Rahane, MS Dhoni, S Binny, B Kumar, I Sharma, M Shami
England XI- A Cook, S Robson, G Ballance, I Bell, J Root, M Ali, M Prior, B Stokes, S Broad, L Plunkett, J Anderson
For summary of day 1, visit here.
For detailed scoreline of day 1, click here.