After a poor season, Sehwag has been left out of RoI squad for Irani Cup. Experts say unless he pulls up socks, it'll be tough for him to make comeback.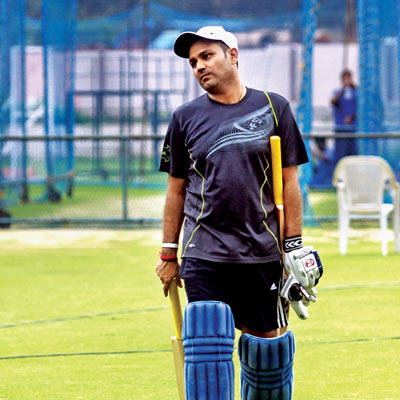 When the selectors chose the Rest of India squad for the Irani Cup on Monday, it wasn't surprising to see Virender Sehwag's name missing from the 15-member list.
The stress has been on the youngsters and performers of the season. Harbhajan Singh and Gautam Gambhir's selection means that they are still in the scheme of things as far as Team India is concerned.
And with the crucial England five-match Test series coming up this year adding up to the current form of Indian openers and off-spinner R Ashwin, it seems this will be one last chance to prove themselves as this will be the last first class match of the season.
Sehwag has been struggling with form and fitness this first class season. His run this Ranji Trophy season has been so poor that he averages only 19.50. To put that into persepctive one must know that even Ashish Nehra's average this season is 22.75.
Sehwag has managed to get 234 runs from seven matches with only one half century. On top of that he experimented by coming in to bat in the middle order. But he had to go back to the top order after he failed.
So, Sehwag being ignored is probably a message by the selectors that reputations mean nothing as far BCCI's future plans are concerned.
But the question is does his poor performance this season justify the non-selection of this match winner, who averages close to 50 in Tests?
The Nawab of Najafgarh is not getting younger and his fitness has become questionable too. His batting was always been about hand-eye co-ordination, but off late he is having problems with his eye sight and has started wearing glasses. A collection of these things have possibly have started affecting his usual batting which has destroyed bowling reputations around the world. The selectors don't need excuses, but results and hence, he was ignored.
Ask former Test cricketer Manoj Prabhakar and he says it is difficult to accommodate Sehwag in the Indian squad.
"Where can you fit him? The current openers are not bad. And you cannot disturb the middle-order either. Virat Kohli is doing well and so is Rohit Sharma. You have to give chance to youngsters like Ajinkya Rahane, Ambati Rayudu. I think it is better to opt for younger players," said Prabhakar. "Sehwag is my favourite and is a class player, we will not get another match-winning player like him again, but age is catching up with him and his fitness is not the same. Sachin Tendulkar played long because he was fit. It doesn't work when you are not fit."
He added one needs a strong will to make a comeback. "If there is a will there is a way. It is all about the attitude and hard work. Talent and hard work go hand in hand," he said.
Former India cricketer and Delhi selection committee chief Chetan Chauhan is hopeful that Sehwag was ignored only due to one poor season and there is no finality attached to it.
"It is not the end. His non inclusion is due to his poor season. For a player, who has an average of 50 in Test cricket, form is temporary and class permanent. However, I am happy for Gautam," said Chauhan. "Selectors will have to keep the options open since our openers have not been doing well. You cannot rule out Sehwag. He just needs one innings to get back that confidence."
The other notable non-selection was of Yuvraj Singh and Suresh Raina.
Harbhajan will lead RoI when they take on Ranji Trophy winners Karnataka in Bangalore from February 9.
Sehwag this Ranji season
vs Karnataka: 32, 11
vs Punjab: 10, 12
vs Vidarbha: 56
vs Odisha: 0, 44
vs Haryana: 3, 6
vs Mumbai: 9, 35*
vs Gujarat: 1, 15