A team of Pakistanis, Indians and Lankans help UAE qualify for World Cup 2015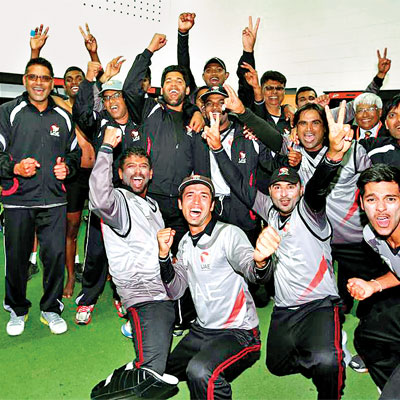 Of the $70 billion that the Indian economy receives in remittances every year, nearly 10 per cent comes from the United Arab Emirates. No wonder, then, that the kingdom which comprises independent city-states like Dubai, Abu Dhabi and Sharjah is often called mini-India or even mini-Kerala.
On Thursday, a motley crew of cricketers representing the Gulf nation created history in faraway Rangiora, a large town in the South Island region of New Zealand. Led by a 42-year-old Pakistani who works as a flight attendant for Emirates Airline, the bunch, which also comprises a couple of Mumbaikars and Sri Lankans, defeated Namibia by 36 runs to qualify for the ICC World Cup next year.
Skipper Khurram Khan, a dashing air steward who has made a habit of scoring hundreds whilst battling jet leg, helped his side clinch its second World Cup berth and first since 1996. Khan was one of three batsmen who returned a 40-plus score as the UAE, made up of players who do '9 to 5 jobs', were bowled out for 263 in 49.5 overs in their final Super Six fixture at the ICC Cricket World Cup Qualifier. Medium-pacer Amjad Javed claimed 3/35 and Khan picked up 2/45 to ensure Namibia finished with no more than 227/9.
For the record, Scotland, too, booked a place in quadrennial showpiece event with a narrow three-wicket win over Kenya in Christchurch. Scotland and the UAE will now contest the final in Lincoln on Saturday. The winner will join England, Australia, Sri Lanka, Bangladesh, New Zealand and Afghanistan in Group 'A', while the other will gain a place in Group 'B' alongside South Africa, India, Pakistan, the West Indies, Zimbabwe and Ireland.
"You can't describe in words the feeling. I have been playing for the UAE since 2001 and it is an amazing feeling to help my team qualify," Khurram was quoted, as saying, in an ICC release. "It's a great achievement. It's been very, very hard to make it this far. Most of us are part-time cricketers. We are not professionals. This is for everyone who trusted us and believed in us."
The 'part-time' aspect is true. Abey Kuruvilla, the former India pacer who coached the UAE in the mid-2000s says it's difficult to coach a team like this. "Hats off to (coach) Aquib Javed (the former Pakistan pacer). It's not an easy job. When I was around, we had a doctor, engineer, sales executive, advertising professional and even a businessman in the team. We used to train only in the evening. It's pretty much the same now. I am happy for Khurram and his boys," Kuruvilla said.
Wicketkeeper-batsman Swapnil Patil and off-spinning all-rounder Vikrant Shetty are the two Mumbaikars in the team. Patil, 28, was part of the Mumbai Under-19 squad. The likes of Sushant Marathe, Praful Waghela and Sahil Kukreja were his mates. He represented Khar Gymkhana and Dadar Parsee Zoroastrian Cricket Club. Sanjay Jumani, who oversees cricketing matters at Khar Gymkhana, remembers Patil as "a hard-hitter who can easily hit the ball beyond 90 metres".
"I met him in Dubai last year. He was taking part in a corporate tournament. He scored a 45-ball hundred in the Kanga League for us," Jumani informs.
Shetty, a 31-year-old, played for Catholic Gymkhana and Sunder Cricket Club. Kiran Asher, the former Mumbai player, remembers Shetty as a talented boy. "He trained under me just for a few months. He told me his parents were moving to the UAE. I am glad he pursued his cricketing dreams there. Qualifying for the World Cup is not a joke. I wish him good luck," Ashar said.
David East, who played a whopping 190 first-class matches for Essex before taking over as chief executive of the county, was a happy man on Thursday. Having shared the dressing room with the likes of Graham Gooch, Kieth Fletcher, Derek Pringle and Nasser Hussain, the 54-year-old also handed Alastair Cook and Ravi Bopara their first professional deals. And ever since he took over as CEO of the Emirates Cricket Board, things have gone just one way –– up.
"I am absolutely delighted with our boys. It's been a great few months. The UAE will take part in the World Twenty20 in Bangladesh. We will also host the ICC Under-19 World Cup next month and now this," East told dna.
"You are right when you say this is a motley crew. Imagine how committed they are. The boys and the coaching staff deserve all the credit. Their success also proves that we have been doing some good work as far as developing the game is concerned. There are Indians, Pakistanis and Sri Lankans in the team, but they are all united," East says with pride. Now, it's time to party.