Having achieved nearly everything in the NBA, Miami Heat star wants to be one of the four best basketball players ever.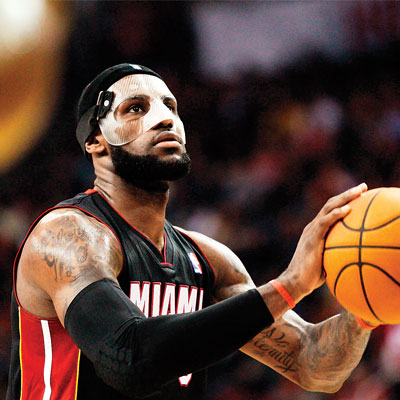 LeBron James is in search of greatness. He recently said that he wanted to be one of the four greatest that ever played basketball.
During an interaction with the media in New Orleans recently, the Miami Heat star was asked 'what was left for him to achieve after having claimed almost everything in the sport'.
"Greatness," James replied.
James is only the fourth richest sportsperson in the world, with a total earning of $59.8 million ($17.8m in salary and $42mn from endorsements) as per the Forbes list nine months ago. Only Tiger Woods, Roger Federer and fellow NBA All Star Kobe Bryant are above James in that list.
And, as recently as March 3, he scored an all-time personal high score of 61 points, playing with a mask to protect his broken nose, against Charlotte Bobcats.
James, 29 and who recently made his 10th straight All Star appearance, is the backbone of Miami Heat in their pursuit of their third straight Championship.
"I always wanted to be the best," he stressed.
Asked what he had to do to be the greatest ever, 'King James' said: "Just continue the way I am going, and want to stay injury free and continue to be productive to my team. Let's see what happens."
James, for whom success has come the hard way as it was his mother who raised him single-handedly and whom he considers his greatest inspiration, is mentally tough. Asked how one had to be mentally strong and stay grounded despite the fame and money and all that went with such a celebrity, James said: "For me as a kid when I was playing, I just played the game as much as I could. It did not matter if it was indoor or outdoor, if it was raining or snowing, if it was hot or if it was snowing, I just played the game so much. I just went out and practised. It is just that you play as much as you can."
Play, he certainly wanted to, as much as he could. He did not want to stay away from action for long that even after a broken nose suffered on February 20 against Oklahama City Thunder, he was back on the court top-scoring for his team against New York Knicks wearing a mask exactly a week later.
"I just want to play basketball the right way. Want to play at a higher level, and put ourselves (Miami Heat) in a position where we compete for the championship," he said. "We try and get better and better every day. As a team, we want to be healthy, going down to our strengths, going to the playoff and give ourselves a good chance to win."
James considers himself "fortunate to be good enough to play basketball". The awards and accolades that came by was only incidental for him. "When I came to NBA, making the All Star team, being a league Most Valuable Player, winning the Championship were the goals in my mind, winning a dunk contest was never a goal in my mind," he said. "I have received the All Star Most Valuable Player two times (2006, 2008), I just played my game. I was excited to be receiving that. But I did not go into the game to become MVP."
One aspect of James off the court was noteworthy. He had his statistics at his finger tips. When a journalist asked how much he was looking forward to his ninth NBA All Star game, James quickly corrected him, thumping the table in front of him. "This is my 10th straight NBA All Star, man. How can you get it wrong?"
He said he was proud of representing USA at the Olympics and the World Championships. However, he was not sure if he would turn up in Spain for this year World Championships. "I love international plays. I have been a part of 2004, 2006, 2018, 2012 Olympics and World Championships, and to be able to represent my country at the highest level is the ultimate and it has always been excitement.
"I may probably not participate in this year World Championships.I don't see myself playing this summer, I'd like to give my body some rest. I am unsure about 2016 Rio Olympics."
James was not affected about other basketball stars hogging the limelight, taking the sheen off him. "I won't have to say, 'look at my stats, look what I have done'. I have always let my game speak for myself," he said.
Indeed, James has let the game speak for himself. And how!