Batsman's measured fifth century shows he is ready to bat at No. 4.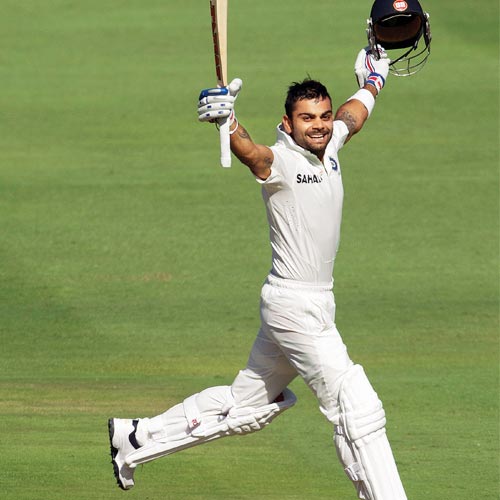 The only blunder Virat Kohli committed during the course of his career-defining 119 on Wednesday was running the resolute Cheteshwar Pujara out. Lest we forget, he more than made up for it.
If ever there was a man who could claim sole ownership of the No. 4 position, it was Sachin Tendulkar. Batting at two-drop in 275 of his 329 Test innings, the maestro amassed 13,492 runs with 44 hundreds and 58 fifties to boot. But when Kohli hopped, skipped and shadow-batted his way into 'The Bullring' on Wednesday, the desire to ease into those giant pair of boots would have been the last thing on his mind. Morne Morkel was operating in the high 140s and had just accounted for M Vijay. And with the scoreboard reading 24/2 after the hour mark, India were going traversing an all-too-familiar path.
Kohli had other ideas, though. Displaying tonnes of grit and oodles of flair, he countered South Africa's hostile pace battery by leaving and ducking a whole lot of deliveries and later punishing the loose ones. So refreshing was Kohli's approach and so brilliant his sense of application that it left the hosts flummoxed.
The pitch had a generous covering of grass alright, but Dale Steyn & Co. failed to generate lateral movement after the first hour. But the bounce was true all along. Kohli countered the same by ignoring any and every delivery bowled on or outside off stump. A brilliant hook, off the 10th ball he faced, got him going.
Morkel, Steyn, Philander and Kallis –– who eventually got him –– troubled Kohli every now and then but he always found a way out. As many as 70 per cent of the 181 deliveries he faced were dot balls, most of them left alone. But it didn't quite affect the flow of runs. Frustrated and, at times, clueless, the bowlers dished out way too many looseners. Kohli made the most of them, cracking 18 boundaries in all, most of them square of the wicket.
Graeme Smith's decision to give Imran Tahir the last over before lunch worked in Kohli's favour as he dispatched a couple of long-hops for four. With 32 to his name, Kohli may have eaten well.
The period between lunch and tea saw Kohli go past his fifty and beyond. He kept his cool after the Pujara incident and took it upon himself to steer India to a position of relative strength. After tea, which he took on 84, Kohli was involved in an engaging battle with Steyn. His modus operandi was the same and he seldom attacked. Kohli was clearly in the zone and offered a hearty smile when Steyn said a few words.
For some strange reason, Smith went back to Tahir and later JP Duminy for a breakthrough. Fifty of Kohli's runs came off this duo. And that includes the couple which got him to three figures.
Kohli leapt into the air and let out a primal roar before soaking in the moment.