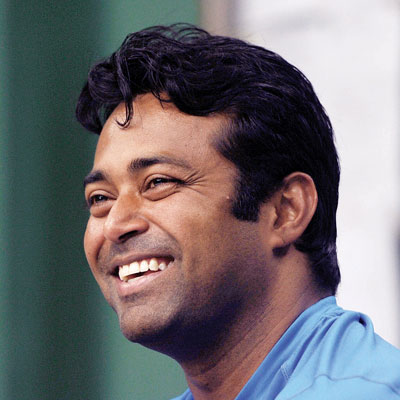 Tennis has given Leander Paes a "vehicle" for livelihood. In his growing up years, it was passion towards something (read tennis), that made him work hard towards achieving his goals. Ever since winning the junior Wimbledon in 1990 and making his Davis Cup debut in the same year, he has strived to put India on the tennis map.
With 14 Grand Slam titles in men's and mixed doubles and still going strong, Paes feels grateful for the love he's earned over the years and feels he needs to say his fair share of thanks to the game and its lovers.
Paes will share his expertise through his academy at Khar Gymkhana here, which was launched on Tuesday.
Paes said the time was right for him to give something back to the game. At the same time, he felt it would go a long way in bringing out the best out of him. "Me playing more will allow those watching to motivate themselves. Seeing their motivation each time I come here to watch these upcoming players, I will get motivated myself to achieve my goals. It comes full circle here as well," said the 1996 Olympics singles bronze medallist.
With upcoming players spoilt for choice as far as choosing an academy is concerned, Paes has good enough reason to believe his 'school of thought' is different from the rest. His father and Olympian Vece Paes will be alongside him heading the coaching panel. "He's the reason I'm here today. He still feels young enough to help and promote the game. His attention to detail is spectacular, ensuring each and every player at the academy will be monitored on a regular basis. It's important to get your basics right and with each player having his own game, we shall be able to tweak their style according to their strengths and weaknesses," said the eight-time men's doubles Grand Slam winner.
"Right from the very first day, it's important to grade the players. A player is only good as his last game and there needs to be a motivation that he can be better than what he was. Our beginner level starts at the age of four with the intermediate and elite levels following. The sport may be tennis, but we won't lose focus from the fact that we'll be nurturing athletes first. You need to run and catch a ball before taking up any game. Tennis comes much later. If we're talking about starting from scratch as far as player-development is concerned, we as a team feel that this approach is a step in the right direction as far as physical and mental growth of the player is concerned," said Paes.