Disgraced rider wants to talk to drugs chiefs after officials, former team-mates urge American to come clean, claim reports.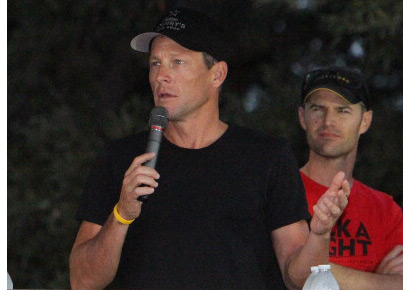 Lance Armstrong is considering a full confession to the doping allegations which have destroyed his reputation and admit to using performance-enhancing drugs and blood transfusions throughout his cycling career.
According to reports in The New York Times, Armstrong — who has always denied ever using banned substances — is on the verge of admitting the charges levelled at him in the damning report compiled by the United States Anti-Doping Association (USADA) which resulted in his lifetime ban from cycling and any Olympic sport and the removal of his seven Tour de France titles.
The reports claim that Armstrong is keen to confess to the use of banned drugs so he can resume his professional athletic career, specifically in triathlon. When asked if Armstrong was about to confess, his lawyer Tim Herman said: "Lance has to speak for himself on that." Herman denied claims that Armstrong had already sought talks with Travis Tygart, the USADA chief executive who led the pursuit of the Texan rider, and David Howman, the director of the World Anti-Doping Agency.
But Howman told The Snuday Telegraph on Saturday night that he would welcome discussions with Armstrong. "WADA has read with interest the media articles suggesting that Lance Armstrong is intending to make a full confession," he said. "To date, WADA has had no official approach from Mr Armstrong or his legal representatives, but - as with anyone involved in anti-doping violations - it would welcome any discussion that helps in the fight against doping in sport."
One complication in any confession from Armstrong would be the prospect of possible federal charges against him. The 41 year-old testified that he had never used banned substances in a legal case against SCA Promotions, a Dallas-based insurance company which was trying to withhold prize money from Armstrong due to doping allegations in 2004. If he now confesses to using drugs, he could face charges of perjury.
Armstrong is also facing other legal battles which could be jeopardised by a confession. In one, he and other former members of the US Postal team are accused of defrauding the government by allowing doping on the squad. In another, the Sunday Times newspaper are seeking just over pounds 900,000 in damages from Armstrong, who had successfully sued the newspaper for claiming he had used drugs.
However, the clamour for Armstrong to confess appears to be reaching a crescendo. Jonathan Vaughters, Armstrong's former team-mate at US Postal, said: "Total truth and reconciliation amongst all riders and parties in professional cycling is the best way forward. If Lance chooses complete truth, it can help this process progress."
Jaimie Fuller, founder of Change Cycling Now which created a charter for the sport to progress, added: "Anything that gets to the truth is great for the sport. We needed truth and reconciliation. Armstrong is obviously guilty. If he had apologised earlier, and said what he was going to do to help the sport, it could have been very different. He has personal issues to deal with, including a significant amount of intimidation and bullying. I'm confident the entire truth will come out over time. The only way he has of recreating his reputation, if he can, is by full and complete disclosure on everything, not convenient parts of it. It would not just be for his sake, but for cycling itself."