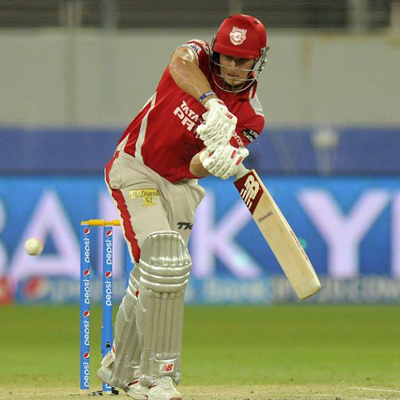 Make it five, no I am not ordering anything in a restaurant, rather this is the winning streak of the team that has been sizzling in the first leg of Indian Premier League (IPL) going on in the United Arab Emirates. Another clinical performance from them against Royal Challengers Bangalore and they make it 5 wins from 5 games, which continues to place them on top the points table.
Kings XI Punjab are the team to beat at the moment, riding on the wave of delivering some scintillating display in both batting and bowling departments. They have outperformed every opponent they have faced till date.
One man who has been the chief architect of their batting is Glenn Maxwell. Oh boy, this lad has been firing on all cylinders. When IPL shifted to UAE, some people might have been skeptical of stepping out of their homes and going to the stadium due to erratic weather and dust storms in the country but to their surprise the dust-storms never happened, and much to their joy it was the MAXWELL-STORM that had hit the Emirates.
In the first game where Kings XI Punjab had to chase a mammoth 200 plus score against Chennai Super Kings, Maxwell scored 95 off 43 balls to win the game for his team, and then repeated his performance against Rajasthan Royals with 89 off 45 balls. He continued the same from into the third game as well, with a sparking knock of 95 off just 43 balls against Sunrisers Hyderabad.
The goof-ups the bowlers made were rectified by their batting power, not to miss out other names like the one of David Miller, who too has been instrumental in leading high run chases.
All this while, people had begun doubting their bowling ability, as to whether KXIP only have the batsman to score runs and no dependable bowlers to take wickets. But things changed in the fourth game as the failure of their batsmen was more than made up for by their bowlers in a low scoring win over Kolkata Knight Riders. It was led by pace spearhead Mitchell Johnson and Sandeep Sharma, who made life difficult for the batsmen with his ability to swing the ball both ways.
The bowlers continued to impress when they restricted the dangerous batting line-up of RCB with likes of Gayle, Kohli, Yuvraj and De Villiers to a meagre score of 124 runs and then chased it comfortably.
Now, let's look at their performances in earlier seasons and what made KXIP change drastically.
They have had a roller-coaster ride in the IPL. While they started quite confidently by finishing as the semi-finalists in the first edition, they haven't done much since then, and once finishing at the bottom of the table with only 4 wins, which they bettered in 5 games in this season.
When auctions for the seventh edition of IPL were held in February earlier this year, many people called the KXIP as the most balanced team for the IPL. They had a nearly perfect auction as they got a perfect blend of Indian and foreign talents.
Out of a squad of 23 players, KXIP bought 16 Indians and 7 overseas players, investing around Rs 55 crores. KXIP strengthened their batting with players like Sehwag, Maxwell, Bailey, Shaun Marsh and Thisara Perrera and got a real boost for their bowling department when they were able to snap up a deal for Mitchell Johnson, their most expensive buy. Then came in Indian talent like Balaji and Murali Karthik and ofcourse Sandeep Sharma, who is proving his worth in all the games.
So, the first leg for the Kings XI Punjab team in IPL-7 is nearly over, and they have been nearly the perfect team, unbeaten in UAE as now they head back to India. 1 billion cricket lovers are now eagerly waiting to catch a glimpse of the most loved domestic sports tournament, and KXIP are well on top of their game.
KXIP never had a great run at their home ground in Mohali, but may be not this time, may be things have already changed for them, their golden fortune has risen from the sands of the Emirates and they should carry on with this form when IPL gets underway in India. With the kind of start that they have got, I don't see them going down from here.