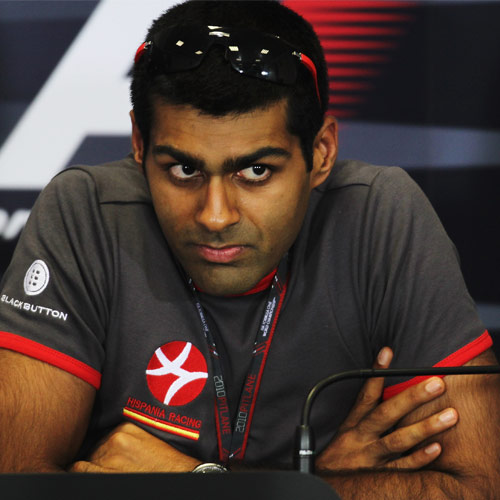 Indian racing driver Karun Chandhok got his year off with a third place finish in the SP2 class at the Dubai 24hours which finished Saturday night.
Chandhok, driving the Dubai 24hours for the second time in his career, drove for the Nissan GT Academy Team RJN, which suffered mechanical issues through the night, costing the team a chance at victory.
Chandhok, driving the No.126 Nissan 370Z Nismo, joined Nissan GT Academy winners James Moffat, Tor Graves and Ashley Oldfield in Asia's leading endurance race.
The No.126 car was fighting with the RJN sister car for the win when the team suffered issues into the night, costing them more than two hours in the pits. The team was at one point 16 laps behind the leader and managed to unlap themselves 5 times but was too late.
Chandhok rued the bad luck but was happy to start the season with a podium finish.
"This is a great start to the year for me and I would like to thank the Nissan GT Academy Team RJN for this opportunity. It was a crazy race and at one point we looked fast enough for the win. You need luck in a 24 hour race and we didn't get our share of the luck but we fought back and took a podium finish."
Chandhok was invited to join the Nissan GT Academy Team RJN. The academy takes people who are good at video games and, in a matter of months, turns them into professional drivers. Over 765,000 people participated in last year's Academy, held through a special free demo made using technology of the new Gran Turismo6 game. A record 42 gamers gathered at the final selection round this year to compete in the process of turning them from virtual to real racers.
"This is a fantastic program initiated by the Nissan GT Academy where gamers have a chance to race in the real world. It was interesting to work with the graduates in a cost-effective program which can take a young kid from his couch to the highest levels of racing with Nissan at Le Mans. This event has been an education for me, learning about GT Academy. I have only seen it from the outside before and have read about it in magazines. I hope it will launch in India soon," added Chandhok.