Japanese duo in city to get used to Indian conditions ahead of Pro Kabaddi League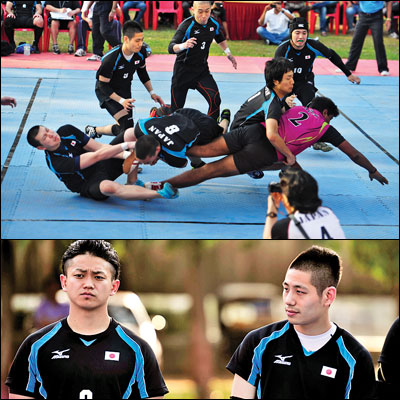 Kabaddi might have originated in India but it has trickled down to rest of Asia, becoming popular in Bangladesh, Iran, Japan and other nations. So much so that a couple of Japanese players – who are up for auctions for the forthcoming Pro Kabaddi League to be held in India – thought of dripping their sweat on Indian mats and flew down a week before they were scheduled to arrive.
Masayuki Shimokawa and Takamitsu Kono were easy to spot amongst the Japanese contingent due to their agility and fitness while they played a practice match against a local team at the Bharat Petroleum Corporation Limited (BPCL) ground in Chembur on Wednesday.
Miles away from the heart of the city, the Japanese stretched, ran and spoke in their own language much to the amusement of the locals. No, they don't speak English, becoming even more difficult for an Indian opponent to read their moves.
Derived from the Tamil word 'Kai-pidi', meaning 'let's hold hands', the sport is painting an all new picture of brotherhood with the upcoming league where foreign players and Indians will play in the same team, like the Indian Premier League in cricket.
The Japanese duo has been fighting on the mat for a while now. Kono, a 22 year-old-student who plays as a right cover, has three gold medals in three years of professional career.
"In Japan, schools provide the early kick when it comes to kabaddi. It is introduced early in the educational institutions and hence the kids become experts at a young age," said Kono, who is born to a priest.
None of his family members are connected to the sport as it was only in 1979 when it was introduced in Japan.
About coming to India, the duo said: "We wanted to train in adverse conditions. In Japan, the temperature is cool and favourable. In India, it is hot and humid and our real test lies here. It is also preparing us for the League and getting to read an Indian player's mind."
Talking about player auctions, the first thing that comes to an Indian's mind is the IPL but Shimokawa and Kono seem unaware of its popularity. "We definitely know cricket but in Japan, baseball is more popular. You have auctions in cricket also?" asked Shimokawa, who has eleven gold medals to his name and is also a baseball enthusiast.
"All professional players are up for the auctions of the League and that is why we are very excited and honoured. It makes us feel important," he added.
But one of Japan's biggest asset is also their football team. Though they are focussing on the League and training, the FIFA World Cup fever has caught their attention too.
"We wish we could be there (in Rio) to support our national team. We wish the Japanese team all the best. It will be exciting if they can win the World Cup. It will also motivate us in the long run," the duo said.
Before jumping on the mat for the friendly, they said: "Now that we are going to play in the Pro Kabaddi League, we would love it if the sport becomes the main sport in our country apart from baseball."