Artificial surface levels the playing field and is also safer, opine players and coaches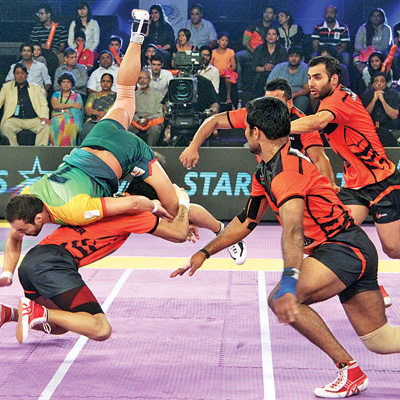 Kabaddi is a sport that's deeply rooted in the soil. This is why 'Mitti' (mud) and' Dhool'(dust) are one of the first things that comes to mind when asked about the sport. The game's going international and so is the playing surface with matches being played on a synthetic mat. And it's no surprise to see this change being welcomed by players and coaches participating in the Pro Kabaddi League.
Anup Kumar, captain of UMumba (Mumbai side), grew up playing the sport in mud court in Gurgaon but can't wait to play his next game on the mat, made of thick rubber.
"One needs to realise that the soil in Haryana will be different from the soil in, say Kerala, or Maharashtra. Playing on a uniform surface is now being implemented worldwide and it gives both sides a level playing field," says the 31-year-old.
Puneri Paltan (Pune) player Mahipal Narwal seconds Kumar. "It did take us time to get used to the mat. We knew that this would only improve our game. Now we don't have to worry about getting pricked by stones, pebbles, glass, which was our usual fear when playing in mud court. Getting our minds free of that concern allows us to concentrate more on the game," says Narwal.
While the focus is on the mat, there is another change. A sport that was traditionally played barefoot, kabaddi players in the league now have to wear shoes.
"You have shoes these days that helps an athlete run and move faster. The surface is made in such a way that we get a grip over the surface," says Praveen Niwale, Narwal's teammate.
More than the players, it's the coaches who have seen the change in style on a daily basis.
Puneri Paltan coach Ramphal Kaushik says, "This is a surface that lessens injuries. So, we see much more intensity in training sessions. For Kabaddi to get the international recognition, it so badly needs, it's important to have a uniform playing surface. This surface can only better the quality of the game."
Kaushik adds that with schools across the country ditching the soil for the mat, the sport can well catch on amongst the youth.
In the final round of matches played at Mumbai, home side UMumba beat Patna Pirates 36-33 at the NSCI, Worli on Tuesday to notch their third win in four games. The win takes UMumba to the top of table with 18 points.