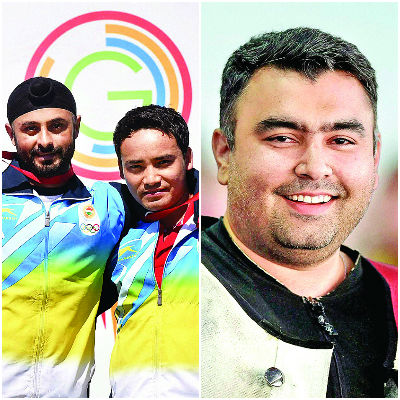 Jitu Rai made up for the disappointment of not making the Indian team in his favourite 10m Air Pistol by outclassing the field in the 50m Air Pistol, where he finish a whopping 6.9 points ahead of teammate Gurpal Singh. Jitu, World No. 1 in 10m Air Pistol, had failed to make the Indian team for the Games, but did make the 50m Air Pistol. Both Jitu and Gurpal were making their debut at the Commonwealth Games.
It was also the third straight success for the Indians in the event, after Samaresh Jung (in 2006) and Omkar Singh (2010) also won gold at previous Games.
Later in the afternoon, Gagan Narang, winner of the 50m Rifle 3-position in 2006 and 2010, won his first medal ever in 50m Rifle Prone, an event which has never fetched a medal for India. It was his third Commonwealth Games and ninth medal but the first which was not a gold.
Shooting stayed India's main provider of medals with 12.
Jitu began with a roar as he logged 562 including as many as eleven 10-pointers and he was 15 points clear of the second placed Kristian Callaghan of England in the qualification, where the second Indian, Gurpal was sixth.
In the eight-man final, Jitu trailed only once after the first three shots. Thereafter he kept stretching his lead, which by the final shot had swelled to 7.1 points over Gurpal was second. Jitu totalled 194.1 for the final, a new Games Final record and Gurpal was second with 187.2. Daniel Repacholi of Australia was third.
"It is an amazing feeling, I am very, very happy," said Jitu, who has Nepalese ancestry and is with the Gurkha Regiment. Born close to Lucknow, Jitu took to shooting only after joining the Army and considers Olympic silver medallist Vijay Kumar his idol.
"For a long time, people thought pistol shooters could not win medals at big events and that was changed by Vijay. Now we are capable of winning medals at any competition," said the soft-spoken Jitu.
"I was disappointed at not making the team for 10m Air Pistol, which is my main event, as I was going on leave a day after the Trials and I was therefore not focused. But I am glad I made up in 50m Air Pistol," he added.
On his performance of the day, he added, "I did well in qualification and I just wanted to stay calm, which is necessary for shooting. The more calm I am, the better I shoot."
He gave a lot of credit to the Army which has given him a lot of facilities. "The Army has been excellent for us shooters and I am grateful to them. The NRAI has also been very helpful and that is why shooting is doing well. Look at so many medals in so many events, it shows how far shooting has come."
He also credited Vijay for the popularity in Pistol events and said, "Now after his success, we all know we can also do well."
Gurpal gushed about Jitu, saying, "He is my training partner and fine shooter. He is also my best friend. He has the capacity to be the best in the world."
Experienced Manavjit Sandhu, who was around the Range when Jitu won, said, "Imagine this is not even his main event and he won so convincingly. He has the potential to be an Olympic medallist. He is already World No. 1 and has won World Cups."
The one-two finish was the third such success for the Indian contingent, who achieved similar results in women's 10m Air Rifle (Apurvi Chandela and Ayonika Paul) and women's 25m Pistol (Rahi Sarnobat and Anisa Sayyed)
It was Narang's first competition in Prone and he said, "It is an event which has not been very popular in terms of medals for India, so this is very good."