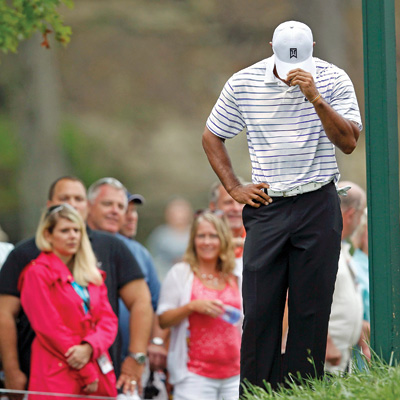 Till not too long back, Rory McIlroy and his fans would dread the advent of Friday, when the young Northern Irish golfer would seem to disintegrate. No longer. He showed that at the British Open and then again WGC-Bridgestone. And, he did the same for a third time in a row at the 96th PGA Championships.
If it was six-under 66 at Hoylake, it was six-under 64 at Akron, Ohio and now it was four-under 67 at Valhalla. At Valhalla, when the fairways and some greens on Friday were waterlogged at times, McIlroy had just eight fairways and 11 greens in regulation, yet he came back with a 67 and the clubhouse lead, which stayed intact.
McIlroy is undoubtedly in 'that' zone, which makes him scary to his rivals and gets Jack Nicklaus to gush that this young man could actually win 15-20 Majors. Well, that's still some distance off with only three in the Cabinet back home and a fourth in sight now at Valhalla, where on Friday, the rain brought extra water hazards onto the course.
If he does have the Wannamaker Cup next to him on Sunday, it will make him the first golfer in six years to win back-to-back Majors.
In any case, it is not going to be easy for McIlroy, with a lot of hungry young and experienced golfers on his trail. Australian Jason Day, who looked dangerous at each Major last year, and seasoned Jim Furyk, who seems to contend every time he tees up these day, are just a shot behind, while Rickie Fowler, the only man with top-10s in each of the three Majors this year, and first round co-leader, Ryan Palmer are two behind as is the Finn Mikko Ilonen.
Phil Mickelson landed a late eagle on the 18th was only three behind after a round of 67. Also three behind is Austrian Bernd Wiesberger.
But four behind are two big hitters, Henrik Stenson, whose CV has all except a Major. Same goes for Lee Westwood, the first round co-leader, despite a two-over 73 that included a couple of visits to the lakes. Canadian Graham Delaet (69-68), Steve Stricker (69-68) and Henrik Stenson (66-71) were all at five-under.
On Saturday, the moving day, while the leaders were still waiting to tee up, Justin Rose, showed he could be a factor over the weekend, moving up with four birdies in first seven holes and to a total of four-under with 10 holes to play. He was now in top-20, but is clearly good enough to move further up.
Also moving up on Saturday morning was young Brooks Koepka, with three-under through front nine to get inside top-20.
Back to the man in the main frame, McIlroy, who has had nine scores in the 60s in his last 10 rounds. Asked what he was doing right for this amazing run, McIlroy with making a direct reference, did allude to his former relationship with tennis star Caroline Wozniacki, with whom he broke up earlier this year towards the end of May.
He said, "I think what happened has been for the best in terms of my golf. 've put a bit more time into it and it has refocused me. I mean, what else do I have to do now?
'I go to the golf course, to the gym and it's just my life at the minute. I worked pretty hard before but the past couple of months I've really just buried myself in my game. It obviously works pretty well, so I am going to keep doing it."