His statistics are second to none, he is among the best of the best and yet as he enters final phase of his career, Kallis remains one of most unsung .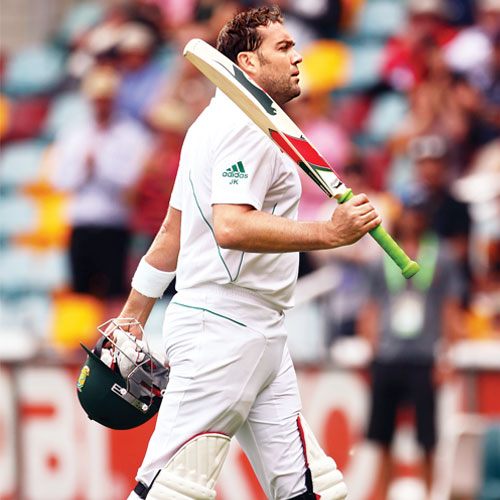 Much like his favourite student, Keith Richardson is an 'all-rounder'. Headmaster, cricket coach, teacher, guide, blogger, husband, parent — all rolled into one. His brain is a storehouse of anecdotes, but he makes it a point to share the following one with anybody and everybody. He says it defines Jacques Henry Kallis.
"We are talking about the late 1980s. Jacques was about 13 or 14. I took him to a nearby town for the Under-15 provincial selection trials. For some strange reason, they didn't pick him.
Disappointed, I went up to one of the selectors and made my displeasure known. That guy told me that Jacques was too small and that he would never make it as a cricketer. I conveyed the same to Jacques. He looked at me and said, 'I'll show them, Sir'," Richardson says in one breath.
And then he lets out a hearty laugh. No wonder he doesn't gets bored of narrating this incident
again and again. After all, it truly defines the greatest cricketer of the modern era.
It's a pity India aren't playing in Cape Town this time around. Richardson, who works at Wynberg High School, rubs it in by telling you that you've got to be in the city to be enveloped with a sense of Kallis. That's where he was born, bred, schooled, trained and nurtured to become the cricketing colossus that he is.
"He did his schooling from our institution. I run the high school. So Jacques came to me after his junior years. I had heard a lot of stories about him and was really looking forward to seeing him because the word out there was that he was quite special. In the beginning, though, he was very small. He used to just score ones and twos. It was really only when he left school that he started whacking the ball," Richardson recalls.
"And because he was so small, his technique had to be very correct because he was not going to blast balls like he does now. I have this theory that connects Jacques and Sachin Tendulkar.
Sachin was also at an advantage because he was small. His technique had to be perfect. That's the biggest strength in these players. They can adapt seamlessly."
Tendulkar is the God of all things cricket. Imran Khan and Javed Miandad are revered in Pakistan. Ricky Ponting, Shane Warne and Glenn McGrath are adored in Australia. Viv Richards is known as 'King Viv'. Brian Lara is hailed as the 'Prince of Trinidad'. Yes, they deserve it. But why not Kallis?
He doesn't have any sobriquets. He doesn't get mobbed at airports. He doesn't get multi-million dollar advertisement deals. Why?
With over 25,000 runs, 61 centuries, 577 wickets and 235 catches in international cricket, there's nothing this man can't do on a cricket field. Going by the numbers, he's achieved more than Garfield Sobers who, according to many, is the greatest to have played the game. But the hard-hitting truth is that 38-year-old Kallis has not got the recognition he deserves.
Shaun Pollock, former skipper and all-rounder, offers a valid explanation. "Whenever we went overseas, we heard a lot of it. The thing is Jacques has always gone about his business without any fuss. He has been absolutely low-key. Also, you must realise that he compiles his runs. He may not be as flamboyant as the other great players. But then again, there's no doubt about his quality. But knowing Jacques, I am sure he doesn't bother much about these things. He just scores runs and picks up wickets."
Another factor that adds to the aura around Kallis is his humility. Richardson says, "Jacques is ever so humble. His humility comes from the fact that he had a tragedy early in his life. When you lose your mother at the age of nine, it's a very, very cruel blow. Life teaches you to be humble and makes you realise that everything you get in this world is a gift. Jacques realised that long ago."
And given that he is going through a lean patch now, Cricket South Africa's (CSA) national selection panel is slowly but surely hoping to do away with him.
"Jacques's biggest strength is his ability to bounce back when things are not going this way. He has a backbone of steel," Richardson says. He showed it in the first Test too. After being done in by an incoming delivery from Ishant Sharma in the first innings, Kallis came out firing in the second. Dealing in cover-drives, he was unfortunate to have been adjudged leg-before wrongly.
Fans were robbed of another Kallis classic. He has produced many over the years.
"He has got to take a call on his career," the realist in Richardson says. "This series against India will go a long way in helping him take that decision. If he does well, he will definitely continue."
The selectors are on the verge of making some changes to the Test squad. And according to chief selector Andrew Hudson, Kallis could be the "catalyst" of those changes. "They can do whatever they want, but the problem for Andrew Hudson is that he will have to replace Jacques with two players," Richardson says.
Pollock wants CSA to treat its greatest player with some respect. "Look at the kind of things he has done for South African cricket. I think it would be nice if he was allowed to take a call on what he wants to do. Let him decide. Yes, discuss with him but allow him to decide the right time," he says.
Just like the BCCI did with Tendulkar? "Yes, great players must get their due. Jacques knows his body better than anyone else. So ask him. That's the least CSA can do for him. We came back into international cricket in 1992. Ever since he made his debut in 1995, Jacques has set the benchmark of averaging above 50. I have captained him and I can tell you that he has never shirked away from any responsibility. On days when he failed with the bat, he would work doubly hard with the ball. A great team man, that's what he is."
Richardson never quite expected his boy to become such a great player, but he isn't surprised either. "We see a lot of talented boys every year. Richard Levi and Charl Willoughby also studied here. But there's been no one as special as Jacques. Every year, one boy gets the Jacques Kallis Scholarship. Jacques pays that boy's fees and takes care of everything. He often comes over and motivates the boys," Richardson reveals. The school has named its ground after Kallis. His face is painted on the outfield.
The man who influenced Kallis the most was his late father, Henry. "His father died in 2003. He brought up Jacques and his sister Janine after their mother passed away. They were a very, very close family. Henry did all the washing, cooking, ironing and fetching from school. During weekends, he would be here at our school bowling to Jacques in the nets. And he never missed a single match ever. Jacques respected his dad enormously. Ask him about the people who matter to him the most and he will name his father first up," Richardson adds Abraham Lincoln once said, "Don't worry when you are not recognised, but strive to be worthy of recognition."
That's Kallis's mantra too.