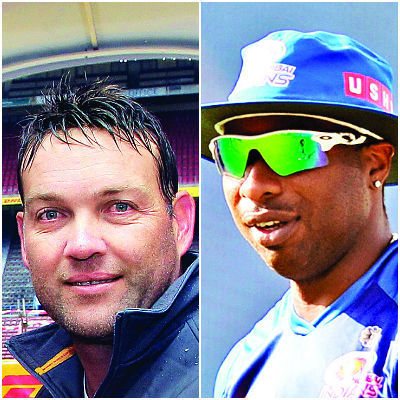 Eight players eligible for more than one team in the Champions League T20 starting next month have opted to play for their respective IPL teams. These include Australian George Bailey, who chose to play for IPL runners-up Kings XI Punjab ahead of his home team Hobart Hurricanes and West Indian Kieron Pollard, who preferred to play for Mumbai Indians instead of Barbados Tridents.
The final squads for CLT20 was announced by the organisers on Friday.
The others who were desirous of playing for IPL teams include Corey Anderson for Mumbai Indians and not Northern District Cricket Association, Patrick Cummings for Kolkata Knight Riders ahead of Perth Scorchers, Jacques Kallis for KKR and not Cape Cobras, Lasith Malinga for Mumbai Indians and not Southern Express, David Miller for Kings XI Punjab and not Dolphins, and Dwayne Smith for Chennai Super Kings and not Barbados Tridents.
"Eight players scheduled to take part in the competition were in high demand after being named in more than one squad, after their respective Twenty20 clubs from around the world qualified for the tournament," CLT20 organisers said.
Dean Kino, CLT20 Governing Council member and Director of Legal and Business Affairs, explained the process for deciding which teams these players would represent. "Like previous seasons, players who have been named by more than one team have been asked to nominate which side they are going to represent. Players are free to make any decision they wish. Teams are then allowed to replace any player that has withdrawn from their squad and elected to play for another side "CLT20 regulations state that when a player elects to play for their 'away' team, that team must pay the 'home' team $150,000 compensation per player. A 'home' team is classified as a team from the country a player is eligible to represent in international cricket."
The tournament is scheduled to be held from September 13 to October 4 in India. Chennai Super Kings, Kolkata Knight Riders, Kings XI Punjab and defending champions Mumbai Indians are the Indian teams in the competition. While Mumbai Indians play in the Qualifiers, the other three IPL teams have qualified directly for the main draw.
Players who have chosen to play for IPL teams
Name Home team Away team
Corey Anderson Northern District Cricket Association Mumbai Indians
George Bailey Hobart Hurricanes Kings XI Punjab
Patrick Cummins Perth Scorchers Kolkata Knight Riders
Jacques Kallis Cape Cobras Kolkata Knight Riders
Lasith Malinga Southern Express Mumbai Indians
David Miller Dolphins Kings XI Punjab
Kieron Pollard Barbados Tridents Mumbai Indians
Dwayne Smith Barbados Tridents Chennai Super Kings
Group Stage
Group A
Kolkata Knight Riders
Dolphins
Perth Scorchers
Chennai Super Kings
A team from the Qualifier
Group B
Kings XI Punjab
Cape Cobras
Hobart Hurricanes
Barbados Tridents
A team from the Qualifier
Qualifier
Q1 – Lahore Lions
Q2 – Mumbai Indians
Q3 – Northern Knights
Q4 – Southern Express
Q1/Q3 will enter Group A if either of them makes it to the Group Stage. Q2/Q4 will enter Group B if either of them makes it to the Group Stage.
If Q1 and Q3 both make it to the Group Stage, then Q1 will enter Group A and Q3 will enter Group B. If Q2 and Q4 both make it to the Group Stage, then Q2 will enter Group B and Q4 will enter Group A