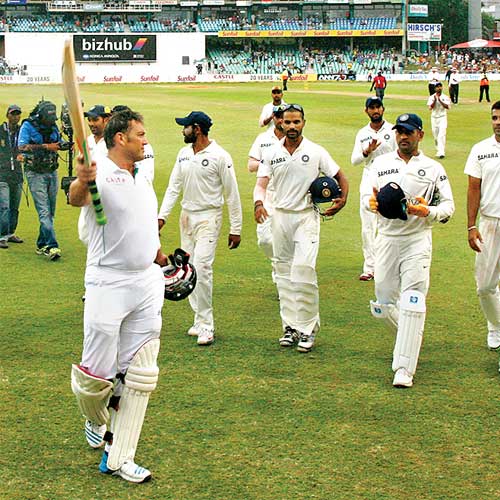 There was no shouldering of the arms and there was no ducking. This time, Hashim Amla offered a straight bat. But for the third time in as many innings, South Africa's run machine had to digest the fact that his stumps were disturbed. The ball swung in the air, pitched on the line of off stump and straightened just enough. Mohammed Shami and his mates were ecstatic.
At 113/2, the hosts weren't too comfortable. The turnout on the third day was poor to say the least.
But that didn't, in any way, stop the few thousand spectators from standing up in unison and screaming their hearts out for Jacques Henry Kallis. The Indian team, too, joined the party by giving the great man a guard of honour. But as the pre-eminent all-rounder of our times walked out to bat in his final Test, Kingsmead was engulfed with hope, despair and a whole lot of emotions.
Will he come up with another of those gritty match-defining knocks? What if he doesn't? What if it rains on Sunday? What if there's no possibility of a second innings? We won't see him again…
Kallis, though, was in his 'bubble'. Flexing his limbs while sauntering to the middle, he shook hands with MS Dhoni before taking guard. For him, things were back to normal. And for the umpteenth time in his career, Kallis met adversity with admirable patience, superb application and unflappable temperament to change the course of the match. His five-hour vigil produced 78 precious runs as South Africa took the upper hand in the series decider. At stumps on Day Three, the Proteas finished with 299/5, only 35 behind and, more importantly, Kallis still there. He was involved in two partnerships –– 127 for the fourth wicket with AB de Villiers (74) and 58 for the fifth wicket with JP Duminy (28) –– as hope won.
Resuming at 82/0, Graeme Smith and Alviro Petersen took South Africa to 103. Soon a mini-collapse, sparked by Ravindra Jadeja but aided by turn and bounce, left them reeling at 113/3. Kallis joined hands with de Villiers and the duo brought South Africa right back in it.
Consuming 16 deliveries before getting off the mark, Kallis came into his own by dancing down the wicket and hitting Jadeja back over his head for consecutive fours. The ploy worked as Dhoni spread his field. Thereon, Kallis dealt in ones and twos. He also regaled the crowd with the odd cover drive.
AB was the dominant of the two –– he scored at 63 to Kallis's 35 –– but became Jadeja's third victim just before tea, caught at slip. That's exactly how he had got Petersen and, later, Duminy. Jadeja took 4/87 in 37 overs, thereby allowing Dhoni to use his pacers judiciously.
The day, though, belonged to Kallis. In the presence of his sister Janine, best friend Mark Boucher and the other faithful, he played all the shots in the book to the various corners of the ground where he had made his Test debut many summers ago. He swept Rohit Sharma for four, got on top of the bounce and punched Ishant Sharma through point. Bar that half chance he offered Shikhar Dhawan, at silly point, late in the day, Kallis was flawless.
Kallis was stuck at 41 for an eternity. A four off Ishant helped him break the shackles before another brilliant punch through point, off Jadeja, took him to his 59th Test fifty. Everyone here wants a 45th hundred, though. Looks like hope will win again.