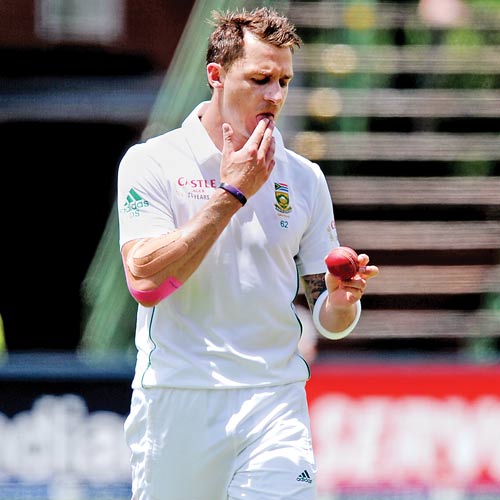 In 128 innings, Dale Steyn has gone without a wicket on just 11 occasions. South Africa have won two, lost four and drawn four of those games. And the ongoing Test? Well, it will take South Africa some doing to cross the line.
Sometime during the three-match ODI series, the world's No. 1 pacer had talked about scaring the Indians. "In some small way, we have already given the Indians a taste of what the conditions are," he had said on the eve of the second game in Durban. He had good reason to mouth those words. After all, the Dhawans, Kohlis and Sharmas were all at sea in the series opener in Johannesburg.
Steyn wasn't done. "You know it's not India where the ball doesn't get higher than the stumps. I don't see many of our guys walking away with bloody fingers or ice-packs on the ribs and stuff like that. This is not Mumbai. It's going to be hard to play here." He kept his word. And South Africa thrashed MS Dhoni & Co. in the ODIs.
But over the last four days, it's been a U-turn of sorts. From Murali Vijay to Cheteshwar Pujara, Virat Kohli to Ajinkya Rahane, MS Dhoni to R Ashwin, everyone has made it a point to nullify Steyn and the threat he is known to pose. No, they never went after him; they 'left' him and his rockets alone. After all, machoism doesn't win you Test matches; discipline does.
Early on Day One, Steyn bowled four straight bouncers to Shikhar Dhawan, the last of those resulting in a catch at deep square-leg. That was Steyn's fifth over in the match. After that, he sent down a whopping 51, including 30 in the second essay, without any success whatsoever.
So circumspect were the Indians while facing him that they simply ignored anything bowled on or outside the off-stump. Frustrated, Steyn would then bowl one on middle, only to watch the batsman offer him a dead bat. But the moment he pitched on leg, they would pounce on the offering and clip, flick or drive –– depending on the length –– him to the fence. Kohli had pulled him with disdain on the first day, while Pujara's executed back-to-back square-cuts on the third afternoon.
For someone who loves to operate in the 150s –– he had once said that bowling fast gets blood boiling a bit –– Steyn turned out to be ineffective on a lively track at the Wanderers. And his match returns of 56-12-165-1 prove just that.
On the fourth day, Steyn bowled a fuller length delivery on the off and it was clobbered over long off for a six by tail-ender Zaheer Khan. Steyn watched the ball soar with a wry smile. If there was an irony in the moment, it was not lost on him.