CWG gold medallist reveals she plans to tie the knot with cricketer beau Karthik next year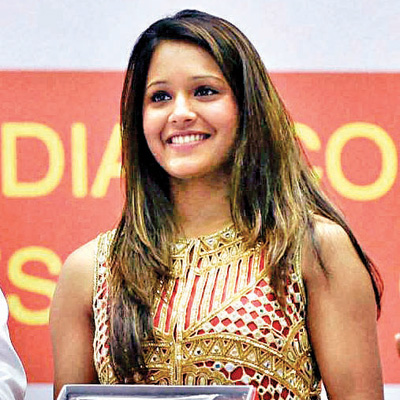 It was a dream come true for squash star Dipika Pallikal when she and Joshna Chinappa ended India's medal drought at the Glasgow Commonwealth Games.
Often called the glamour queen of Indian sport, Pallikal hogged the limelight a few months ago when she got engaged to cricketer Dinesh Karthik. Her fiancé was very much present when she was presented the gold medal. So much so that she feels the wicketkeeper-batsman's presence throughout the Games gave her that 'extra push' to do better.
"He (Karthik) was super excited. He knew how much this gold meant to me. I had been talking about it ever since we got together. So he's very happy that it's finally over. He always wants me to become the best in my sport. And here I am with the gold. As a partner, he is happy for me," Pallikal told dna.
The Chennai-based girl understands that the CWG medal will help raise the profile of squash in India. India has not hosted a major pro tour event since 2011. This despite the fact that the sport's world body, the World Squash Federation, is headed by an Indian, N Ramachandran, who is also the president of the Indian Olympic Association (IOA).
"It's a great achievement. I seriously feel that it will open up a lot of doors for us. We can only concentrate on our job and win medals for the country. But I wish the corporate sector comes forward and starts investing in Indian squash to inspire the young kids to take up the sport."
Her CWG success has already yielded fruit. "We're surprised to see this media frenzy. This wasn't the case earlier. We have done our job and now it's time for the administrators to do theirs. If it doesn't happen now, I don't see it happening ever again," said Pallikal.
The World No. 10 is training with five-time world champion Sarah Fitz-Gerald in Chennai ahead of the Hong Kong Open (August 24-31) and China Open (September 2-7). She has also set sights on the Asian Games, which starts in mid-September. Talking about the road ahead, Pallikal says her dream run in Glasgow has given her confidence to do better on the singles professional tour.
Karthik was spotted cheering his lady at every single game in Glasgow. And her eyes light up every time she talks about her future husband. "We share a very strong bond. We give each other space, which is important in any relationship. Whenever we are down in our sport, both of us are just a phone call away. We don't behave like a powerful sports couple. When we go back home, he is just my fiancé. We don't talk much about our careers. He is someone whom I can trust."
Pallikal also revealed that she and Karthik have already made up their mind to tie the knot in 2015. "We are planning to get married next year. Our relationship is going strong and one hopes it continues that way."
But till then, it's important for this couple to keep achieving laurels in the world of sport. "As an athlete, there are hard times and you need to support your partner. I know how hard it is when you are not part of the team. I was myself dropped from the team and lost a few close matches. I can feel for him. But the most important thing is he still has the desire to work his way back into the Indian team. I am with him always.