The neighbours and old rivals have a win and loss each, their wins against Bangladesh and Afghanistan and the loss to Sri Lanka. A win in this match will help them have a better chance of making the finals.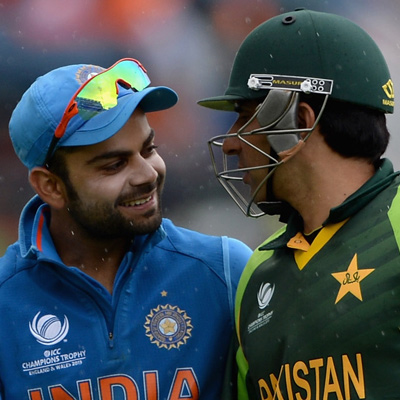 Misbah-ul-Haq lead Pakistan and Virat Kohli lead India will face off in a Super Sunday clash at the Asia Cup. The teams have had similar fortunes in the tournament - one win and one loss each. Pakistan lost their first match to Sri Lanka and then went on to beat Afghanistan. India on their path had a win against Bangladesh and then a loss to Sri Lanka.
The India-Pakistan rivalry is like the Australia-England rivalry that makes the game richer as both teams don't just play for a win, they play for pride, they play for the fans in their respective nations. These matches are played with a lot of passion and all players try to put their best foot forward.
Besides the past, the future has a lot in store for both teams as Sri Lanka has already ensured that the wins against India and Pakistan seal their spot in the final, this match is like a semi-final to decide who will join them in the final.
Sri Lanka has been the best team in the competition so far and their unbeaten run is a testimony to that. Now India and Pakistan will both need to bring their A games to the fore if they hope to win the tournament.
Pakistan are the defending champions and have much to lose, India on the other hand who broke their losing streak with a win against Bangladesh will be hoping that their loss streak doesn't start again and so will be seeking a win too.
With a bonus point for their win against Afghanistan, Pakistan have an extra point on the leader board, India have seen captain Kohli play his role as a batsman, but to win against Pakistan will need him to inspire others in the team to help him.
Both team have players who individually can steal a win for their respective sides, but they will need to combine and click together as both India and Pakistan look to win the battle as they renew their rivalry.
The battle is much more than just one team vs the other, it is also a test of skill for 25-year-old Kohli and 39-year-old Misbah in this battle of newbie and old guard. It's the young captain against the experienced old guard. Unpredictability is a characteristic of Pakistan's cricket and the way their temperamental players play will determine who wins the match.
Fans will be hoping for an awesome game of cricket where runs are scored and wickets taken truly making it a match worth watching on a Sunday.