Somdev Devvarman registers first triumph against a top-five player after Argentina's Juan Martin del Potro pulls out with an injured wrist in their first-round clash in Dubai.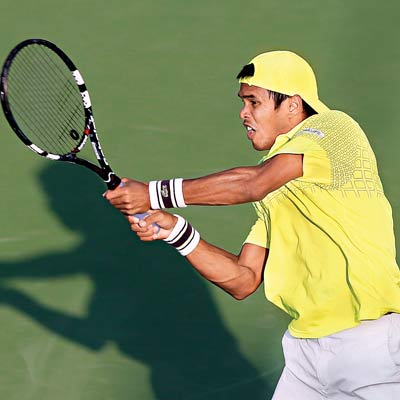 Yes, Juan Martin del Potro was hurting. Yes, his backhand was as good as ineffective. Yes, he retired after conceding the first set. All of this probably takes the sheen off Somdev Devvarman's win in the first round of the Dubai Open, but the truth, well, is that he won.
On Tuesday, India's top-ranked singles player recorded the biggest win of his career by beating World No. 5 from Argentina. On a high after capturing the ATP Challenger in New Delhi on Sunday, Devvarman won the first set 7-6(3) in an hour and seven minutes before his burly opponent took a medical timeout due to tend to his left wrist. Minutes later, he returned to the court and shook hands with Devvarman. A concerned Devvarman did feel for his opponent, but soon broke into a smile. After all, he had won.
The victory was Devvarman's first against a top-five player. And mind you, del Potro is a Grand Slam champion. Prior to Tuesday's shock win, Devvarman's biggest wins came against against Croatia's Marin Cilic (No. 15) and Ivo Karlovic (No. 25) in 2009 and against Cyprus's World No. 22 Marcos Baghdatis in 2010.
It was del Potro who made the first move, breaking Devvarman early to take a 2-0 lead. The Indian, however, broke back immediately. The match was characterised by powerful groundstrokes, but del Potro stopped playing that powerful backhand of his midway through the set. At 5-6, Devavrman was staring at two set points, but he held his nerve and saved them both. In the ensuing tie-break, he raced to a 5-1 lead. The Argentine did save a couple of set points off his racquet, but a netted forehand gave Devavrman the set and, effectively, the match. Their head-to-head records reads 1-1.
"It's unfortunate, especially for a guy like him," Devvarman said. "I realised he wasn't comfortable hitting backhands and I tried to make him hit as many as I could, and he wasn't really hitting over it so I knew he wasn't happy."
"It's difficult to speak with you at the moment," del Potro told reporters. Fighting to keep control of his emotions, he added, "I am coming here out of respect, and I will let you know tonight or tomorrow what my injury is and what my plans will be. I don't feel really well. My wrist is hurting a lot, and, you know, everybody knows what's happen to me four years ago with my other wrist. It was really tough to play today and I tried everything, but it's very difficult to play in these conditions (windy) you know.
"I was playing slices and I could not be the player I would like to be. It's hurting all the time, sometimes less and sometimes a little more. But it's hurting, and I have been in contact with my doctor all the time.
He's trying to keep me motivated to keep playing, but I know what is my limit playing on court. Today was enough. Now I will see what he says for the future, and I will let you know very soon what's my plans are gonna be. I cannot say that (it will be surgery) yet — but I'm feeling similar pains to the other hand and what I felt four years ago. It's not really positive for my future. But I will do whatever the doctor says and I will have to be as strong as ever."