The man who was supposed to take Team India to the next level has, in fact, presided over 10 defeats in 15 overseas Tests.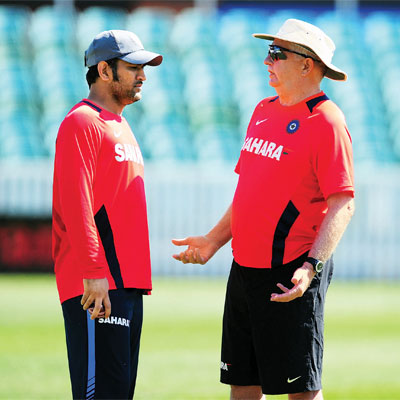 If nothing, Duncan Fletcher's time in the Rhodesian army must have taught him that adversity breeds unity. Team India is united alright, but isn't winning anything on foreign soil. And the coach must take blame for this.
A jack of all trades, Fletcher, who took over from Gary Kirsten after the 2011 World Cup, worked for Zimbabwe's treasury computer bureau, designing and implementing automated systems from water-billing to car registrations. In fact, he even helped devise the country's vehicle number-plate system. A decent all-rounder and agile fielder, he played six ODIs before embarking on a career in coaching.
There was a time when Fletcher enjoyed God-like status in England. Forging a wonderful partnership with Nasser Hussain, he masterminded Australia's defeat in the historic Ashes series of 2005. But like all good things come to an end, Fletcher's time with the English team ended with the whitewash Down Under.
Fletcher was supposed to take Team India to the next level. Alas, they have dropped a few notches ever since the he took over. Of the 15 overseas Tests India have played under Fletcher, the team has tasted victory only once: in Kingston (Jamaica) back in June 2011. A couple of draws in the West Indies, four losses in England, four losses in Australia, a draw and a loss in South Africa and a similar result in New Zealand are certainly below-par results.
On Friday, news came in that top BCCI officials are likely to meet Fletcher and skipper MS Dhoni to discuss India's overseas debacles. For once, the BCCI is concerned about Team India's shambolic on-field performances. But hang on, neither Fletcher nor Dhoni will get the boot any time soon. In fact, it would be futile to hope for any change at the top. The World Cup is, after all, less than a year away. That's a convenient excuse. Fletcher, who reportedly makes $30,000 a month (excluding bonuses, goodies and benefits), will complete his extended tenure on April 1.
Fletcher does deserve credit for guiding youngsters like Shikhar Dhawan, Cheteshwar Pujara, Virat Kohli, Rohit Sharma, Ajinkya Rahane and Ravindra Jadeja. He is often seen honing their technique during training sessions. But Fletcher has clearly failed to see the larger picture. He has failed to instill in the team that 'go for the kill' instinct. And that's cost India dear on many an occasion. In fact, that's the reason why India have lost Test matches and series from winning positions. The coach, much like the captain, has got to accept responsibility for the same.
Former India skipper Sourav Ganguly has blasted Fletcher. Speaking to a television channel, he said, "I don't know what Duncan Fletcher is doing. The approach needs to be right and Fletcher needs to help Dhoni. He has clearly struggled and he needs to be more involved. He needs to plan better and the selectors have to assess and get the right squad. I saw Allan Donald (the bowling coach) in South Africa, walking around the boundary line, talking to his bowlers. But I don't see Joe Dawes (India's bowling coach) doing that."
The BCCI will do all it can to tell us that all is well, but Fletcher would do well to answer a few questions. How about facing the media, Mr Fletcher? That's something the Zimbabwean hasn't done in a long time.