Captain's 2015 World Cup plan revolves around crucial batting position and Mumbai batsman has all credentials.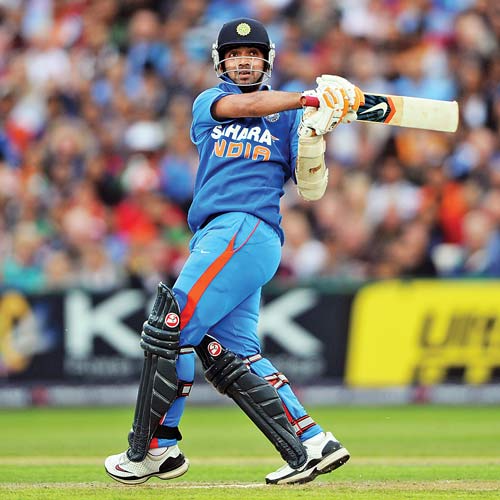 The No. 4 batting position is important. In Tests, Sachin Tendulkar occupied this spot, and Virat Kohli had to prove himself to be given this responsibility after the legend's retirement. However, in the ODIs, India seems to be looking for somebody to settle down in this spot.
And when Ajinkya Rahane walked in to bat at No. 4 against New Zealand in Napier on Sunday, it showed that skipper MS Dhoni is still trying out his options.
Dhoni's vision for the 2015 World Cup was to have Suresh Raina bat at No 4. And it appeared like he was putting that plan into practise in the first ODI against Australia at home recently. He sent the southpaw in after the fall of second wicket in place of regular batsman Yuvraj Singh, who was padded up.
Dhoni had then said that he would like to have options as relying only on Yuvraj would backfire if he is not in form or is injured. The captain had said Raina needs to get experience playing in that spot.
However, Raina's run at the crucial position was not as impressive and he was back to his original lowed middle-order position.
Yuvraj got his usual No.4 position back, but he was low on confidence and did not make use of the opportunity. Against West Indies last year, his scores read 16*, 28, 55 followed by a duck in South Africa.
His disappointing show eventually cost him his place in the series against New Zealand.
The series, seen as a preparation for the next year's World Cup, has raised the who for No.4 question. A place that requires patience, technique, temperament, class and aggression. And the ability to change gears at the right time.
Rahane has all the credentials, which he displayed during the Tests against South Africa. In the lone ODI he played against the Proteas recently, he was sent in at No.4 but managed to score only eight.
Even in the first ODI against the Kiwis, Rahane failed to impress after a stunning catch by Nathan McCullum ended his innings at seven off 13 balls.
After the defeat on Sunday, Dhoni said, "The number four and five batsmen haven't been consistent for us. Even if we don't get hundreds or fifties from them, those slots are crucial when the opposition scores 280-300 runs. After we lose early wickets, we need partnerships to rebuild and cannot play catch up, thus putting pressure on the lower middle order."
But former India player and selector Kiran More, who also played the 1992 World Cup in South Africa, said Rahane has the ability to bat at No. 4.
"The number three and four are crucial. It was occupied by Rahul Dravid and Sachin Tendulkar in Tests. It is the same in ODIs. You have to be both defensive and attacking and also built partnerships. Sachin played at that position in the 1992 World Cup for us and he played some good knocks," he said.
"Overseas it is very important as he plays the role of a game changer as he has to carry on if you lose top order quickly. I think Ajinkya Rahane was looking very good but a brilliant catch did him in. He is a class player and should be given a longer run in that position," he said.
He, however, said Yuvraj's comeback should not be ruled out. "Yuvraj is a fantastic player. His return would be great news for team in India. And in good form, he can be dangerous," More said.