With their hijab in place, the karatekas do their nation proud in World Championships.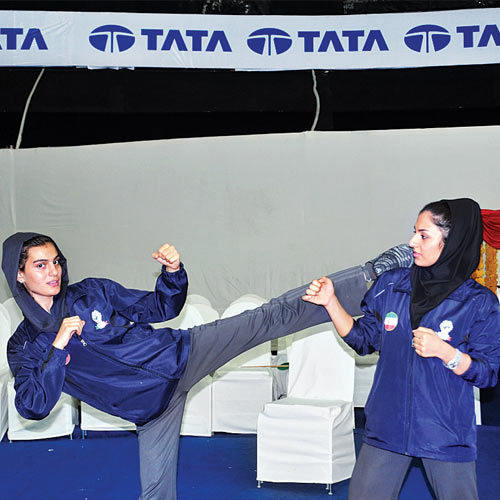 Among hundreds of girls participating in the sixth Tata Karate-Do Gojukai World Championships here, it is easy to spot the Iranians. They stand out because of their hijab (a veil that covers the head and chest). Their presence is quite surprising and dispels many notions about their country.
This is the first time a women's contingent from Iran is participating in a Karate championship in India. And their traditional attire is adding to the diversity of the participants here at the NSCI.
Recently, Shirin Gerami – Iran's first triathlete – participated in the world triathlon wearing the traditional Islamic dress. The women from Iran here are doing the same.
According to their coach Ali Akbar Mohammadi Bagha, there are more women who practice this sport in Iran. "Around 900 men and 1,000 women," he says.
Twenty-year-old Fatemeh Zeynali – who won bronze in Kata individual 18 and above Nidan category – got into the sport with encouragement from her father, who was a wrestler.
Another girl, 16-year-old Mahshid Heydarpour picked up the sport inspired by her cousin.
"It is not an expensive sport, all we need is a mat and the clothes required to wear. There are many clubs in Iran teaching the sport," adds Bagha.
Bagha last visited India in 1996 for the Asian Championships in Pune. He is also a television producer in Iran and is close to football legends like Ali Daei.
Not fluent in English, both the girls and the coach, need a translator. The sport, he says, has been flourishing in Iran for the last 51 years — one year before women there got the right to vote.
"It was after the (Iranian) revolution (1978-79), that the men and women started training separately.
Earlier, we all used to train together. The government has been encouraging," says Bagha.
He recalls a film, Offside (Jafar Panahi, 2006), made on a law concerning women. It is about three girls trying to enter a football stadium to watch a match but the law does not allow them because it believes there is a risk of sexual harassment and verbal abuse.Heydarpour says, "But I feel powerful knowing Gojukai. I can take care of myself if someone tries to harass me."
Zeynali has been training for 11 years and started competing only recently, while Heydarpour has trained for 10 years.
"The art also helps us protect other girls around us," said Zeynali. They both are impressed with whatever little they have seen of India so far and say they feel at home here. And there is something else they like here.
"We both are fans of Salman Khan," they added with a smile.