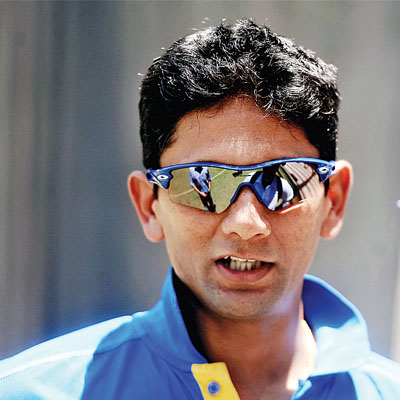 Player-turned-coach BK Venkatesh Prasad has seen both sides of Indian Premier League – the good and the bad. He was part of every single edition from its inception until last season as a bowling coach, beginning with Royal Challengers Bangalore in 2008, switching over to Chennai Super Kings for the next two years before returning to his Bangalore side.
This year, Prasad, like many other regulars, finds himself out of the league and is not pleased about it. Having been part of the CSK team that won IPL and the Champions League in the same year (2010) and with the RCB that finished second best in IPL and CL in 2011, the former India medium-pacer will be analysing the IPL 7 matches in the media. This, he said, will help him develop as a coach.
"It is disappointing in a way not to be associated with an IPL team," Prasad told dna on Monday on the sidelines of the Syed Mushtaq Ali Trophy T20 final here. "I feel every franchise needs to look at having Indian coaches as part of their team management for the simple reason that only four foreign players can play in the XI and the other seven are Indians.
"It is an INDIAN Premier League. While it is good to have a mix of foreign coaches and foreign players, not all foreigners are knowledgeable. That is something people need to understand. I have seen so many (Indian) players who are better than foreign players. There are so many Indian coaches are better than the foreign coaches who are part of the IPL set up now.
"In that way, it is a bit disappointing to miss out. But one always keep learning. It is always good to step back and look at the scenario from the outside and learn a few more things because you will be better as a person, as a coach when you start again next season."
Prasad, currently coach of Uttar Pradesh, felt that working with IPL teams has been the biggest challenge, tougher than even playing.
"Outstanding," he said when asked about his past experience with RCB and CSK. "It is an amazing challenge because you are only judged by the team's results and not the contribution you make to the team.
The franchise owners need to look not only at the results but also at the development of players and if the coaching staff is doing it or not. But that is not the case with most of the franchises because they only look at the result.
"It has been a huge challenge for me in the six IPLs. I have gained a lot working in that kind of a set up. There is a lot of preparation that one has to do in IPL, especially by the support staff, to make things easy for the players. Coaching is probably the toughest job that I have come across."
To Prasad, who has been part of some of the victorious Indian teams as the bowling coach, guiding players who have reached the senior level is all about strategies. "Coaching not necessarily means coaching in actual terms but about strategies and tactical aspects. You need to touch upon the mental aspect of the game more than the technical aspect. When you have reached a certain level, the Ranji Trophy or IPL, you don't need to do much with the technical aspect."
The 44-year-old Bangalorean said that the teams this season are evenly balanced. "I don't know who are favourites. It is very difficult to say as far as T20 is concerned. Teams are pretty evenly poised. Only after it unfolds can one pick up the favourites. All the teams are evenly balanced," he said.