KXIP's Sandeep Sharma doesn't believe in giving up and that's what has kept him in good stead, say his coaches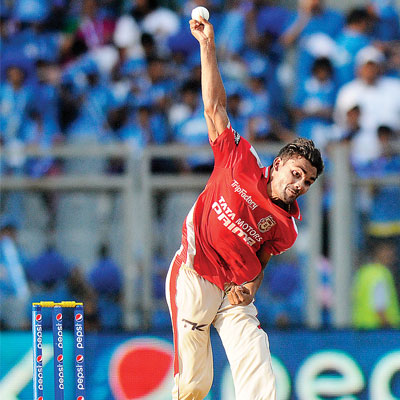 Sandeep Sharma is a good mimic. His India Under-19 coach Bharat Arun says that Sharma defuses any tense situation by imitating players and coaches.
"Sandy keeps the team in splits. He loves to have an audience. He has got a very good sense of humour and narrates humorously how we did, especially after a disappointing day," Arun points out.
Sharma has been at his best this IPL. Wednesday's game against Sunrisers Hyderabad
was a one off in which he went for 16.25 an over in his four and with one wicket. But in the previous matches, he has made many a leading batsman dance to his swinging deliveries. He dismissed Chris Gayle and Virat Kohli in quick succession not once but twice this season. In eight matches, so far he has taken 14 wickets. As his coaches Arun and Bhupinder Singh (Sr) of Punjab Ranji Trophy say, he will only get better from tough situations.
The 20-year-old right-arm medium-pacer from Patiala is one who thrives on challenges. Arun says: "He has got a big heart. When you throw a challenge, he will be the first to put his hand up. His attitude is, 'okay there is a challenge. Here is an opportunity for me to exploit my skills, I can be a winner'. If he loses, it is fine. The mindset with which one approaches a situation is important and Sandy has this quality."
Sharma is one who takes his practice sessions seriously. Arun says: "He throws challenges to the batsmen. He sets imaginary field and tells batsmen if they can hit him. He is hell-bent on trying different things. He is a thinking fast bowler. That's what makes him special. What most bowlers do is they try different things after being hit. But Sandy says, 'it is a good ball, he hit me for a six. Let me see if he hits the same good ball for another six'. That's when you need cool head.
"I give full marks to bowlers who want to experiment. A bowler should discover himself. He is bound to make mistakes. Even if you discover one good thing about yourself, it will hold you in good stead. This boy is not afraid to experiment."
Punjab Ranji Trophy coach and former national selector, Bhupinder Singh (Sr), says: "Sandeep puts a lot of mind to his bowling. He understands his limitations, that he is 125kmph-130kmph bowler. He has to improve on the consistency and accuracy of his both his swingers. He is an intelligent operator. He always backs himself. He is able to understand to some extent what the batsman is going to do and what he is supposed to do."
Sharma had a fruitful 2013-14 Ranji Trophy, picking up 36 wickets in eight matches. "The key is his fitness
," says Singh. "As a coach, you always like bowlers like Sandy who don't have to be pushed to do their work. They play to win, are unhappy with colleagues not giving 100 per cent. He is one who wants to bowl more and more. He often argues with me saying, 'I have bowled only 22 overs a day. I can bowl 26-27 overs and I am fit'. I have seen guys who have bowled 20 overs a day and say it's enough."
Sharma won praise from his KXIP captain, George Bailey. "He has been awesome. His bowling has been fantastic. He is a great kid. I love his enthusiasm, love the way he trains. I have heard some really good things about him, how he impressed last year, how he has really progressed as the tournament went along and has grown in stature and confidence. We have just seen that. Like anyone, he still has got things to learn but to see that hunger, how much he wants to improve, how much he wants to get better is fantastic
On his love for challenges, Sharma told dna: "There comes a time when a bowler can think in two ways. Whoever I have spoken with including top players, including Harbhajan Singh, Yuvraj Singh, they say there are two ways of looking at challenges. Everyone is getting hit, I will also get hit. But, if I can stop the run
flow, I will become a hero. If you let that situation go out of hand, how will you reach the top? But if I do well, everyone will talk about me."
Sharma this IPL
1/65 vs SRH
0/32 vs KKR
3/25 vs RCB
1/37 vs CSK
2/29 vs MI
3/15 vs RCB
3/21 vs KKR
1/26 vs SRH