After his six that took MI to playoffs on Sunday, Tare says he was aware of the equation and backed himself to do it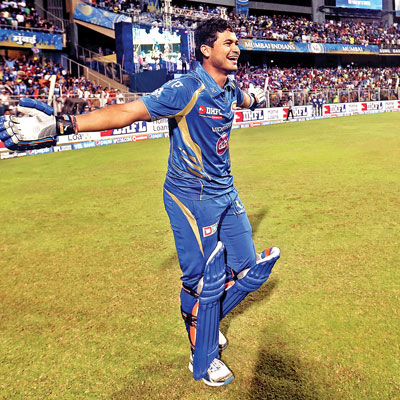 Aditya Tare says he has only heard and read about Javed Miandad's legendary last ball six in Sharjah in 1986 that haunted a generation of Indians and continues to do so as far as Chetan Sharma is concerned. The Mumbai Indians player, however, has lived the moment with his six that couldn't have come a ball or two later at the Wankhede on Sunday.
Needing a boundary off the fourth ball of 15th over for a better runrate that would take them past the Rajasthan Royals' total of 189 and into the playoffs, Tare pulled James Faulkner over the square leg for a six off the delivery. And then went on to spend a sleepless night.
The 26-year-old hasn't still gotten over the moment. "The response has been crazy. Just couldn't sleep through out the night. A lot of things were going on and there was incredible energy around," Tare told dna on Monday, a day after he guided Mumbai Indians to a historical win.
So what what going on in his mind when he came into the middle? "The only thing going on in my mind and I even told myself was that 'we are not going down after coming so close'. We had one opportunity and one ball. The only thought was to hit ball over the line and with the field set up, I aimed at the shorter side of the ground and there it was," he said.
The Mumbai player said he was aware of required equation when he walked in to bat. "I was aware well before. I was told we need a six of a particular ball, but then another message came that a boundary would do too. I did not look at the big screen and aimed at doing one thing at a time," said an elated Tare.
Tare said he had faith in himself even after (Ambati) Rayudu got out. "It was a kind of anti-climax. We were cruising by then. Rayudu had hit a six off the second ball and we needed two off one ball. We thought we might get there but then he got out and the match got tied. Ambati almost broke down on the ground. It was a great partnership that got us there.
"The only thing in my mind was there is still an opportunity and anything can happen. I am happy and thankful to God that it ended in our favour."
Talking about the situation that Mumbai Indians were in, Tare revealed the team was high on confidence. "In these situations, the best way is when you know the target. It's easier than batting first. When we were chasing, we knew how many runs we had to score in 14.3 overs.
"Luckily, we won the toss but 190 was not an easy target by any means. Credit to Corey (Anderson) for such a brilliant innings — a once in a life time kind of innings. I don't think I have seen a better innings than that.
The season hasn't gone the way Tare would have liked, but he is still happy. "Its (season) been fine. I opened in four games, I thought I was batting well. I have no doubts about my abilities. I was getting to 20s and was batting well, getting a positive starts. I should have converted them to 50s and 70s but didn't.
"Batting in middle was always difficult. One of my strengths is that I am a flexible player. I can bat in the middle or top-order and I am comfortable with it. I am glad the team management gave me the responsibility in the lower middle-order and happy to contribute," said Tare.
Mumbai Indians have not had a good start to the IPL losing five back-to-back games, but once they returned to Mumbai they started doing well. "Once we came back to Mumbai, it changes at Wankhede. This has been our fortress and this year too, we have lost only one game here. The return set up the tone – Polly (Kieron Pollard), Rohit (Sharma) and everyone came into form and things were fine," he said.
Tare said he is looking forward to the Eliminator against Chennai Super Kings at the Brabourne Stadium on Wednesday. "Every T20 game is tough game. Every opponent in the IPL is tough team to face.
Chennai is no different. They are a great team and I believe it is going to be a good game."