All-rounder is looking forward to sharing Sunrisers Hyderabad dressing room with Dale Steyn in IPL, which is keenly followed in his home state J&K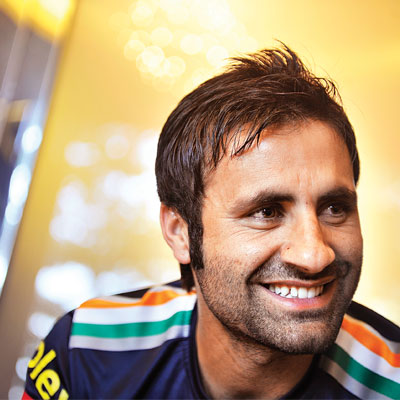 Cricket in Jammu and Kashmir doesn't paint an image of fervent passion that the rest of the country exudes. But if you go by the state's most famous cricketer — Parvez Rasool — the sport there is as big if not bigger.
Even chief minister Omar Abdullah will agree to it as he misses no chance to display his emotions on Twitter whenever the valley's poster boy Rasool performs well, or when he's not picked in the Indian playing XI, as was the case last year.
Now that IPL VII is round the corner, the households in Kashmir are busy cleaning their rugs and ensuring there is no satellite disruption on television. Why? The boy from Bijbehara town is all set for his second innings in the tournament for Sunrisers Hyderabad.
"In Kashmir, IPL is a craze among the people. It is as popular as it is in the rest of the country. They are just waiting for IPL to start and have a look at new players. People in Kashmir watch all the matches," says Rasool, who was bought by the Hyderabad franchise for Rs 95 lakh this season.
"On top of that, we did well in Ranji Trophy this season that has increased people's interest towards cricket as a whole. People started following the Ranji team and now they are focussed on IPL," adds the 25-year-old, who donned the Pune Warriors India jersey last season.
Talking more about the cricket culture in his state, he mentions how kids are ecstatic about playing cricket in the streets and how he is turning out to be an inspiration for them. "After I got selected for IPL and then the national team, more kids picked up the bat back home. I wish they all chase their dreams," says Rasool.
Rasool says though he was overlooked for most of the matches last season, he got a lot of exposure due to IPL, which made his India 'A' stint easier.
"I believe I should grab whatever little chance I get to prove myself, be it domestic matches, practice matches or IPL. The rest lies with the selectors. As you know, a lot of players have come to the international stage through IPL. Hence, I am also hopeful," adds the all-rounder who is only the second cricketer from Kashmir after Vivek Razdan to get selected for the national side.
In an entirely new team, Rasool believes the presence of old friends Aaron Finch and Bhuvneshwar Kumar (former Pune Warriors India players) is a boon. "Aaron, Bhuvi and I have trained together before and we know each other. It is helpful to have known people in the team, it helps both in planning and performance," says Rasool. "But I am looking forward to sharing the dressing room with Dale Steyn. I will be meeting him for the first time."
What went through his mind when he was kept out of the playing XI during India's tour to Zimbabwe last year? "It was disappointing but I think I learnt a lot by being with the team. Even Amit Mishra wasn't a part of the team for a few series. These things aren't in my hands. Now I am looking forward to learning more by spending time with both the Indian and foreign cricketers," he says.
Rasool is also overwhelmed to have VVS Laxman as the tea's mentor. "He is one of the nicest people around. I will try my best to listen to him and improve my batting," he says.
Rasool will be playing in Dubai for the first time and is expecting the conditions to be batsman-friendly. But he believes, "if the wicket is good for batting, the bowling has to be equally strong to defend a total."