Following SC observation that CSK and RR should be barred from IPL-7, the buzz is that this year's edition may see only six teams participate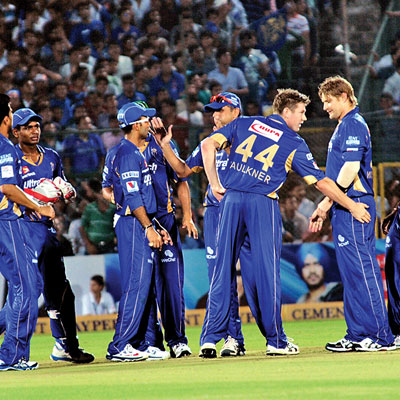 It's been over 11 months since the alleged 'towel tactics' of S Sreesanth opened a can of worms so deadly they could eat up the man who dubbed the gifted pacer and two other Rajasthan Royals players "rotten apples" via video-conference from the comfort of his summer home in Kodaikanal.
A lot of water has flown through the Cooum river in Chennai and N Srinivasan is now staring into oblivion. The man who rules with an iron fist could face a premature end as BCCI president. The cement baron is known for his ability to counter-punch, but this time he could probably be knocked out by the highest court in the land.
Apart from asking him to step down and make way for Sunil Gavaskar or any other former player of repute, the Supreme Court also proposed that Chennai Super Kings (owned by India Cements Ltd, of which Srinivasan is vice-chairman and MD) and Rajasthan Royals be suspended. After all, officials/owners connected with these franchises were arrested for betting-related offences.
If it was team principal Gurunath Meiyappan, Srinivasan's son-in-law, who brought CSK into disrepute, Rajasthan's already-plummeting reputation suffered a hit when Raj Kundra, who owns a 11 per cent stake in the franchise, was arrested by the Mumbai Police. Both parties are out on bail now.
Sources say Srinivasan will do all he can to save his baby — CSK, not Meiyappan. CSK is the hearbeat of the IPL. They have won the league twice and played in the final on a further three occasions. Their captain is MS Dhoni, who is unarguably the most marketable cricketer on the planet. Their canary yellow jersey sells like hot cakes and 'Whistle Podu' is, perhaps, the most popular anthem across the league.
The Royals, who thrive by operating a low-cost model, is the darling of the league. The manner in which an inspired Shane Warne guided a motley crew to glory in the inaugural league was the stuff of dreams.
The BCCI's lawyer will plead to court that suspending CSK and Royals will result in losses to the tune of Rs 400 crore. However, it remains to be seen if the court pays heed to this argument.
A section of the BCCI wouldn't mind if the IPL isn't held this year. These are mainly the politicians who are any way busy with the general elections. No wonder, then, that none of them has come to Srinivsan's rescue. We are talking about Arun Jaitley, Rajiv Shukla, Anurag Thakur, Farooq Abdullah and others.
Another section believes that six other franchises needn't suffer because of two erring teams. "What will you tell a powerful franchise like the Mumbai Indians? That we are not holding the league because of CSK and RR? Do you think they will buy that argument?" an official said. "According to me, something is better than nothing. We may have a six-team league. Mind you, we have to give answers to sponsors and Sony (Multi Screen Media) who pay us a bomb every year.," he added.
Srinivasan will be desperate to save his team. He will lose a helluva lot of bargaining power if CSK are suspended. The league, of course, would have lost lot of credibility.