As cricket's mega event comes back to country, teams would be hoping for change in fortunes in familiar surroundings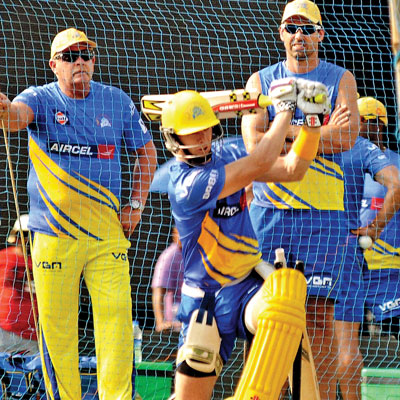 How Kings XI Punjab would have loved to have the entire IPL-7 in the UAE. They have won all their five matches there and are on top of the table. On the other hand, Mumbai Indians would have been so desperate to return to Indian shores. Yet to taste a win after five matches, a lot of questions are being asked about the Rohit Sharma's team management that comprises some of the most successful cricketers that have ever played the game.
Difficult to imagine how a support staff that includes Sachin Tendulkar, Anil Kumble, Ricky Ponting, John Wright, Jonty Rhodes and Robin Singh could not produce a single win.
On the contrary, Kings XI Punjab, without any high-profile names in their coaching staff, have believed in their abilities and given the freedom to their players to express themselves in the middle. Glenn Maxwell and George Bailey have been their success stories so far.
Though still a long way to go, one would imagine this to be KXIP's bright chance to crown themselves as IPL kings, come June 1 by carrying on the momentum in familiar surroundings of India. But it is still early days.
Teams like Mumbai Indians will only hope that luck changes for the better once they are in India. It is just a coincidence that the No. 1 team in the table with all five wins, KXIP, take on the last-placed MI in their first match in India at the hallowed Wankhede on Saturday.
It is an opportunity for Mumbai Indians to win back the faith of their supporters. Perhaps, the big-hitting Trinidadian Kieron Pollard found his timing right and nearly took Mumbai home with that hurricane knock on Wednesday night in Dubai. With a lot of questions being asked about Mumbai Indians' decision to retain players before, and their selection during, this year's auctions, Pollard needs to produce such knocks on a regular basis.
Conditions in India will not differ much compared to what were on offer in the UAE. As TA Sekar, director of GMR Sports, owners of Delhi Daredevils, said, "There won't be much difference in the conditions. In India, you can prepare pitches to your taste and the home side tends to have the advantage."
But as have been seen in the earlier editions, there will be runs galore, and targets in excess of 200 will be chased down with ease.
It is, perhaps, here that somebody like Kolkata Knight Riders captain Gautam Gambhir will be happy to get back his confidence. His team's batting coach WV Raman said, "There is no hard and fast rule that Gambhir returning to form cannot happen in UAE or that it has to happen in India. It is just a case of one good innings."
And, that one good innings did come in KKR's last game when he made 45 against Rajasthan Royals before departing for India after his first four outings showed 0, 0, 0, 1.
KXIP's head coach Sanjay Bangar said that the conditions are the same to all. He said: "Conditions in UAE are pretty similar to India. I think some pitches in India will help the bowlers a bit. It is equal for all the teams. It is just that every team has to cope up with the pitches in their own way."
Chennai Super Kings will play their home match at Ranchi's Jharkhand State Cricket Association's, the home of their captain Mahendra Singh Dhoni, against KKR in the first match of the India leg on Friday.