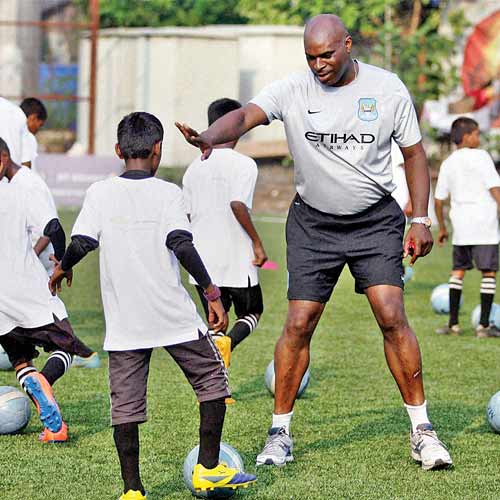 Former Manchester City goalkeeper Alex Williams believed that the "Indian youngsters are as much talented as youngsters abroad". But, it surprised him that not many play for an English club.
Williams was in Mumbai on Wednesday to conduct a Manchester City football coaching clinic at the Cooperage.
Williams, who made 125 appearances for City, felt that playing football in India was very different from playing in other places. "It's very hot in India, hence you can't play a fast game because it gets really tiring. So you need to know just when to attack. And because of that, you need to be technically strong when playing in the sub-continent," he said.
Speaking about the pressures of being a Premiership goalkeeper, Williams said: "It's extremely daunting, especially when it's a derby game. You need to be mentally strong apart from the physical element. For, when a goalie makes a mistake, more often than not, it results in a goal."
Though cricket is like a religion in India, Williams felt that good infrastructure could see many more players taking up the sport. "Infrastructure, on the whole, has to be good. You can't just have good players and think that your country will do well. You need to have good coaches, good facilities and good administrators if you want football to grow," he said.
Know Williams
Age: 52;
From: Manchester, England,
Teams: Manchester City (1980-86), 125 appearances; Port Vale (1986-87), 35 appearances.