Missed catches, stumping hurt Kohli & Co bad as Sangakkara leads Lanka to two wicket win.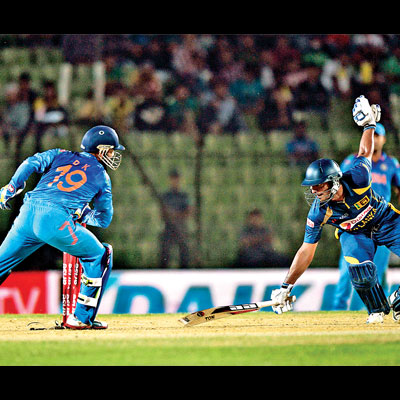 Kumar Sangakkara seems to get better with age. On Friday, the 36-year-old wicketkeeper-batsman scored 103 off just 84 deliveries with a dozen fours and one six as Sri Lanka posted their second successive win in the Asia Cup and top the table, defeating India by two wickets with four deliveries to spare.
For Virat Kohli and his men, there are a lot of lessons to be learnt, particularly in fielding that should have been several notches higher if they were to successfully defend a total of 264. That there were dropped catches and missed stumping chance proved India costly.
If the fielding was taken out of the equation, it was a good outing for India with bat and ball. Shikhar Dhawan was back among runs, though he missed his century by six runs. However, the opening stand could have realised more than 33 that Dhawan and Rohit Sharma eventually did, still giving enough reasons for the think-tank to worry about.
Sharma may have been shocked when he was given leg before by English umpire Nigel Llong off off-spinner Sachithra Senanayake as the batsman stepped out of the crease. However, even if a batsman walks down to the middle of the pitch and is wrapped on his pads in line with the stumps and if the umpire thinks that it's going straight enough to hit the wicket, a batsman can be adjudged leg before. The manner in which Sharma was out shows how much the opener is struggling for runs and even luck's eluding him.
However, Dhawan and captain Virat Kohli shared 97 for the second wicket, the former timing his strokes well through the gaps while Kohli, fresh from a century against Bangladesh two days ago, was as usual in peach form but missed his half-century by just two runs.
However, the Indian batsmen succumbed to their old foe in Ajantha Mendis, who returned to the squad after missing the opener, and picked up four for 60. The Indian top-order, barring Dhawan and Kohli, came and gone, playing expansive shot one too many and giving the Lankan fielders simple catches.
The manner in which India lost wickets, a total of 264 /9 looked competitive. It had to be backed by tight bowling, which India have not been able to do in recent times.
Sri Lanka were off to a good start, staying ahead of India and were on cruise mode. Kusal Perera and Lahiru Thirimanne gave Lanka the kind of start they needed in pursuit of 265 target. However, when left-arm spinner Ravindra Jadeja and R Ashwin, who looked to be a lot better on the day than in the previous matches, brought India back in the game.
India should have been on the right side of victory had Dinesh Karthik not missed an easy stumping chance when the veteran left-hander was on 30 (Lanka 141/2 in 30th over).With a small target to defend on such fine batting conditions, you cannot give the opposition any 'life'.