In the city for a basketball clinic, Sacramento Kings' point guard Isaiah Thomas believes Nba could soon get player from subcontinent given the rate at which sport is growing in the country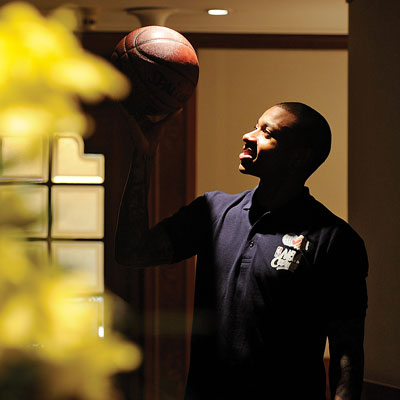 He had no India connection. But when Mumbaikar Vivek Ranadive spent $347 million for a 65 per cent stake in Sacramento Kings – a National Basketball Association (NBA) franchise – the breeze from Bandstand Promenade in Bandra pulled Kings' point guard Isaiah Thomas like a magnet from Washington to conduct a basketball clinic for school children here.
"Vivek told me good things about Mumbai and that I would have a lifetime experience in this city. Never before was an NBA team owned by an Indian, I was surprised when I heard that he has bought stakes.
"But when I met him, I found him very genuine. He really cares about players. He is a 100 per center who does a lot for the organisation, comes for all the games and practice sessions. He is someone whom you can talk to anytime," said Thomas, flaunting tattoos on both his arms.
"Even if the team doesn't do well on a given day, he would call or shoot a text message to all of us. But he lets us be basketball players, he would never be up on his sleeves and dominate," added Thomas.
Talking about the Bollywood night match against Los Angeles Lakers, Thomas said it took Americans by surprise. "I didn't play that night, I was injured but I watched it from the sidelines. The whole NBA fraternity went crazy. Everybody wore Bollywood-themed shirts with the word Kings written in Hindi. People were excited to see decked up dancers who performed during the interval. It looked like we were in a different planet. All the Hindi songs which played were pretty cool, though very different from what I listen to."
However, Kings' lacklustre performance in the 2013-14 season does not bother Thomas.
"We are a young team, we have to become consistent and trust each other. If that happens, we will do better the next season," said the 25-year-old, who is named after former Detroit Pistons' point guard Isiah Thomas, who is his mentor.
Often compared to Nate Robinson from his hometown, the 5 foot nine inch hoopster takes it as an honour. "It feels great when you are compared to your idol," Thomas said.
Thomas got hooked on to basketball in Washington, where seniors like Jason Terry were inspiration for the youngsters. "In Washington, I have played everywhere, from every court to every street. My parents say that I was born with a ball in my hand," said Thomas, whose father backed him from childhood financially for his training and other expenses.
"There have been times when the family did not have money. Then, my father worked extra hours to earn those extra bucks to spend on my training," he added.
Thomas was also into football in his childhood. "I played soccer in my neighbourhood but when we moved to a new place, I gradually lost touch with the game. I don't follow it much now but with the World Cup coming, I might watch some USA games," said Thomas.
He said his favourite football memory is that of Brandi Chastain – a female American footballer – taking off her jersey and falling to her knees in a sports bra celebrating United States' victory over China in the 1999 FIFA Women's World Cup final in 1999.
After an Indian owner, Thomas talks about possibilty of an Indian teammate. "Quite possible to have an Indian teammate with the way the sport is developing in India," he said.