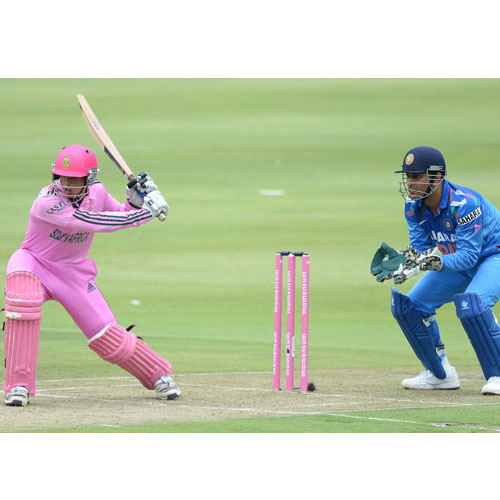 India have conceded scores of over 300 on nine occasions in One-Day Internationals (ODIs) in 2013. Nishad Pai Vaidya discusses the death overs bowling, that has proved to be the major culprit in them conceding those huge totals.
In 32 One-Day Internationals (ODI) played in 2013, India have conceded totals of over 300 nine times. While their batting line-up has moved from strength-to-strength, the bowling hasn't matched their consistency, and has often been exposed on batting beauties. On helpful surfaces in England and West Indies, they did reasonably well, brilliant at times, but the home series against Australia and in the first ODI against South Africa, the insipid bowling has left the Indian think-tank with a lot to mull over.
Against South Africa at Johannesburg the other day, Mohammed Shami was the only bowler who troubled the batsmen. He ran in with energy and hit the right areas early on. Both Hashim Amla and Quinton de Kock did not find it easy to tackle him early on, as he was getting that subtle movement off the seam. But, take that spell away, and the others simply didn't trouble the batsmen enough. And once India couldn't capitalize on the new ball, they bled runs. The death bowling in particular was woeful, as India conceded 118 runs in the last 10 overs.
Let us now revisit the instances, where India have conceded over 300 runs this year, and determine what went awry in the slog overs.
India vs England — Rajkot
While batting first, England had moved to 232 for two in 40 overs, with Kevin Pietersen and Eoin Morgan in the middle. The duo attacked the bowlers in the next few overs, but lost their wickets in quick succession. However, Samit Patel and Craig Kieswetter continued to launch an attack on the Indian bowling, and propelled the total to 325. In the last ten overs, England scored 93 runs. India fell short in this game by nine runs.
India vs South Africa — Cardiff
During the opening encounter of the ICC Champions Trophy 2013, India posted 331 on the board, thanks to Shikhar Dhawan's ton. South Africa started off very well, but lost wickets at crucial junctures of the match. While they were never in the chase, India could have wrapped things up much earlier. After 40 overs, South Africa were 251 for eight and were bowled out for 305 and that too, only off the last ball of the innings.
India vs Sri Lanka — Jamaica
The match against Sri Lanka turned out to be a rude awakening after a splendid Champions Trophy campaign. After Sri Lanka batted first, Mahela Jayawardene and Upul Tharanga simply refused to get out. Even after Jayawardene was somehow dismissed for 107, Tharanga continued to flay India's attack and the stage was set when they were 224 for one in 40 overs. At that juncture, Tharanga was batting on a 100 and then broke loose. Over the next ten overs, Sri Lanka amassed 124 more runs, with Tharanga taking his score to 174 not out.
India vs Australia — Pune
On a flattish surface at Pune, the Indian bowlers did show some fight and kept pegging the Australians back, although George Bailey kept the visitors in the hunt. In 40 overs, they were 224 for five, and then Bailey and the tail threw their bats around and took Australia to 304. India couldn't chase down the total, and fell short by 72 runs.
India vs Australia — Jaipur
Australia's top five batsmen got fifties in this game on a belter of a wicket at Jaipur. At 237 for three in 40 overs, India would have hoped to restrict the Australians to a score of just over 300 to have a chance of chasing their total. However, the Australians attacked with Glenn Maxwell and Bailey in the centre. The last ten overs produced a whopping 122 runs, as both batsmen helped themselves to fifties and put the total seemingly out of India's reach with a score of 359. But, Rohit Sharma, Shikhar Dhawan and Virat Kohli made mincemeat of the Australian bowling and sealed a historic run-chase.
India vs Australia — Mohali
This is a game that may haunt Ishant Sharma for some time to come. Skipper Dhoni's amazing ton helped India go past the 300-run mark, after they were in a spot of bother mid-way through the innings. Australia were moving steadily, but wickets set them back and when they were 213 for six in the 42nd over, not many would have backed them to overhaul a target of 304. During the last three overs of the match, Australia needed 44 runs when Ishant ran in to deliver that fateful over. James Faulkner mauled the Indian pacer and dispatched him for four sixes and a boundary to take 30 off the over. It was poor bowling and ultimately, one felt the game boiled down to that over. Australia reached the total with ease thereafter.
India vs Australia — Nagpur
Déjà vu Jaipur! Bailey continued to feast on the Indian bowling on the tour and smashed his way to 156. Even Shane Watson joined the party to score 102. A score of 300 looked inevitable when they were 251 for three in 40 overs, and Bailey was still in the centre. The boundaries kept coming every other over, and they amassed 92 runs in the nine overs thereafter. A decent last over by Ravindra Jadeja ensured that Australia were kept to 350. However, India had conceded 99 in the last ten. Again, the Indian top-order sealed a successful run-chase.
India vs Australia — Bangalore
A run fest at Bangalore! Even after Rohit Sharma smashed a double-ton and took India to a mammoth total of 383, Australia would still have backed themselves to come good. But, the top-order crumbled under pressure, although the runs kept coming at a good clip. Things looked hopeless when they were 211 for eight in the 31st over. The Indian bowlers were then marked for
some special treatment by Faulkner, as he kept smashing them all over the place. Clint McKay held firm, as Faulkner kept giving the Indians a massive scare. In the next 15 overs, Australia smashed 115 more runs and Faulkner even essayed a memorable ton, before he was the last man dismissed.
South Africa vs India — Johannesburg
De Kock and Amla were solid from the outset and once the South Africans got their eye-in, there was no stopping them. They were still hovering around the run-a-ball mark when de Kock was dismissed in the 42nd over, with the score on 247. Duminy and de Villiers then smashed everything in sight, and added 111 in the next eight overs. If you bowl it in the slot to batsmen like JP Duminy and AB de Villiers, expect it to be sent out of the ground. The Indian bowling figures made for a sorry sight.
The pattern is ominous for the Indians in the slog overs, as they simply aren't plugging the flow of runs. It is a cause for concern, as they have been unable to stop the run-flow even after respective teams had lost a few wickets, early in their innings. Clearly, there is some work to do there.
(Nishad Pai Vaidya is a Correspondent with CricketCountry and anchor for the site's YouTube Channel. His Twitter handle is @nishad_44)