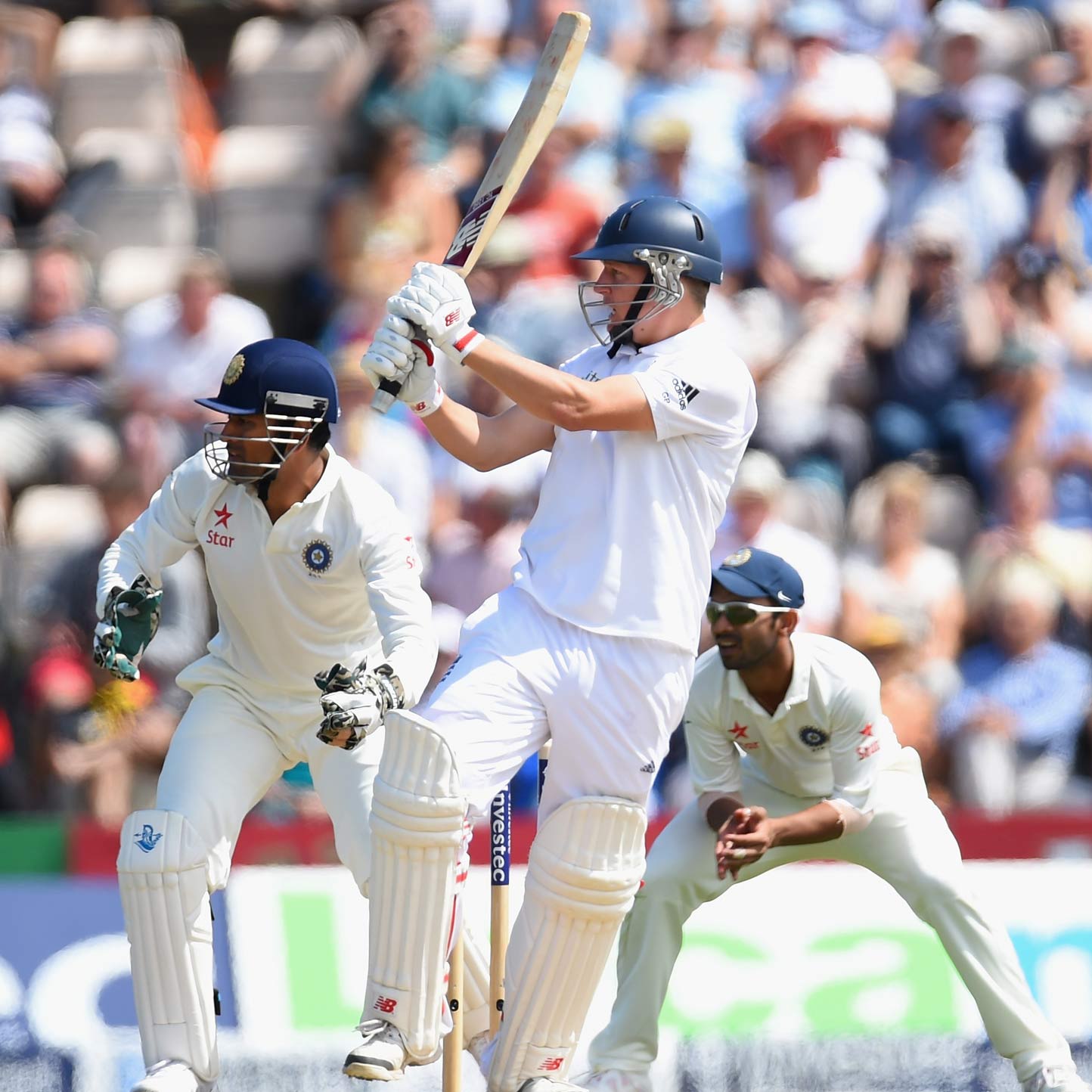 The Indian bowling lacked bite as centurion Gary Ballance and veteran Ian Bell batted with consummate ease to take England to a comfortable 358 for three at lunch on the second day of the third cricket Test here today.
While part-time off-spinner Rohit Sharma got lucky as he got Ballance (156) out to a dubious caught behind decision, the Indian bowlers didn't look threatening at all on a flat Ageas Bowl deck where the English batsmen scored freely.
At lunch, Bell, who has had a torrid time in the series was batting on 68 with form man Joe Root (2 batting) for company. The Bell-Ballance pair added 142 runs for the third wicket stand.
The Englishmen scored runs at a fair clip today as they added 111 runs in 29 overs of play in the pre-lunch season. Beginning on overnight score of 247 for two, India needed quick wickets with the second new ball which was only 10 overs old at the start of play today. It didn't happen though.
But Ballance and Bell played watchfully in the first half an hour as Bhuvneshwar Kumar (0-79) and Pankaj Singh (0-95) began proceedings. Mohammad Shami (1-81) was introduced into the attack in the 8th over of the morning.
The Indian attack though has been unimpressive in this match so far, losing their discipline from the first two Tests and bowling wayward for a majority of this Test match. There were the odd deliveries that troubled the batsmen, but otherwise, the two quickly settled down and runs started flowing as the 300-run mark came up in the 103rd over.
Bell played more aggressive cricket, even stepping out to Ravindra Jadeja (1-63) and hitting him for the first six of the match. At one stage the session scoring-rate almost touched five runs per over, with 47 runs coming off 10 overs bowled in that interim of play.
Bell reached his half-century off 99 balls then, with 7 fours and 1 six, in the 107th over. An over later he brought up the 100-run partnership for the third wicket. India then resorted to a 7-2 field for Jadeja, sometimes on the leg-side even, but the batsmen were good enough to get boundaries through them. Ballance in particular was in fine form, bringing up his 150 off 278 balls, with 23 fours, in the 115th over.
An over later, England breached the 350-run mark, and looked good for a tall score in the first innings. Rohit Sharma (1-25) was then brought on as a last throw of the dice by skipper MS Dhoni, and to England's dismay, he struck two overs before the break.
A sharp delivery bounced quite a bit and came off his thigh pad which was well taken by Dhoni, and given out by umpire Rod Tucker, Rohit's maiden Test wicket. Ballance was extremely unlucky to be given out at this juncture after scoring 156 runs (288 balls, 24 fours), with India getting an opening against the run of play.