Second time in a row, Sardar Singh and Co lose grip over match at the death; lose 1-2 to England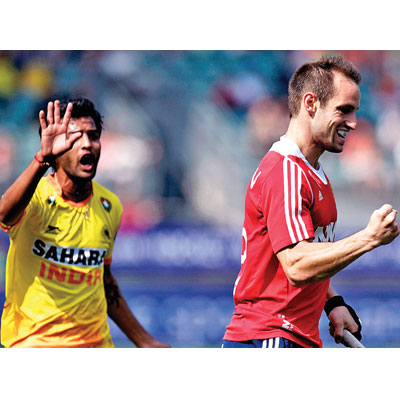 Deja vu. That's the only thing that comes to mind after India's match against England. It was a match the Indians should have wrapped up long back but they allowed it to go the wire and then quite predictably tripped over it.
India crashed to their second successive defeat, losing 1-2 to World No. 4 England.
The second loss in as many games puts India in a difficult position and their hopes of a top-six finish must surely be in the doldrums.
In the same group Australia beat Spain for a second win for a maximum six points, while England have one win and one draw for four points. Belgium, after the win against India, thrashed Malaysia later in the evening to join Australia at top with six points. Spain have one point from their draw against England while India and Malaysia have yet to open their account.
In a match that alternated between brilliance and rather mediocre stuff, India had the lion's share of the first half. India had three penalty corners in a row, thanks to the video referrals going their way, but the sturdy English defence came in their way.
The Indians were always looking like scoring a spectacular goal with their runaways and fine ball play, but the shots they had were wide or over and George Pinner, under the bar in the English team had little trouble. But there was no denying the pressure on England.
Mandeep Singh and Manpreeet Singh had some excellent runs and their skills, which also won India the penalty corner were a threat as were the moves created by Sardar Singh. Then there was Akashdeep Singh, who almost got the ball with a shot that missed the goal by the narrowest of margins.
Even as India squandered three penalty corners, England made good their first one won by Nick Catlin. Mark Gleghorne, who like a few teammates of his, who play in the Hero Hockey India League, scored off a superb drag-flick to put England one-up.
England did not have much time to celebrate the goal, as Sardar sent an unmarked Dharamvir a long ball and the latter smashed one over English goalkeeper's head to equalise.
The second half was busier – on either side. Mandeep was thwarted on the top of the striking circle and then Walmiki hit just wide, while on the other side Ashley Jackson and Barry Middleton had their chances, but Sreejesh was once again up to the task.
With the score 1-1, it seemed India might just be able to get a draw but England were getting desperate. Against the run of play, England won a penalty corner and Jackson took a great shot, but it was very well saved by Sreejesh, only to see Simon Mantell latch on the rebound and whistle a back-flick past him in a flash. England were 2-1 up and there was just 75 seconds on the clock. India were beaten once again by the last-minute blues.
A visibly dejected Terry Walsh, the Indian coach, said, "I thought both sets of guys played well. The reality is we have no points from two matches despite playing some really good hockey. Both teams we have played are ranked above us, but we have come close on both occasions. If you take a step back you can see that we are making progress. We are in this environment and we are playing the top teams, so we will benefit from that. The level we are playing at is better than we have been."