After two defeats, India come back admirably to hold Germany 3-3; to face Australia in quarterfinal on Wednesday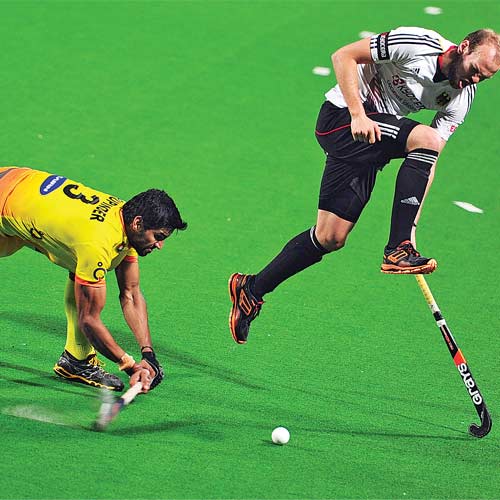 Despite successive defeats in their first two outings of the World Hockey League finals, Indian skipper Sardar Singh promised an improved showing in his team's last game against Germany.
On Monday, his teammates proved him right by delivering one of the best results in recent times by any Indian team, holding Germany to a laborious 3-3 draw in Pool A at the Major Dhyan Chand National Stadium here.
Playing against one of the fittest sides, India had to seize the initiative and maintain pressure. The hosts did it in the first 35 minutes by outpacing the Germans.
With just two minutes to go, India looked set to create the biggest upset of the tournament as they were leading 3-2. But the joy was shortlived as Thilo Stralkowski managed to trap a hard hit of his teammate from the 25m circle just at the Indian goalmouth. After finishing last in their pool, India will meet world champions Australia in the quarterfinal knockout clash on Wednesday.
The hosts took the lead in the 19th minute through Germany's own goal. Raghunath's hard push from the 25m circle was accidently deflected in by a German defender while trying to mark Indian forward Dharamvir Singh.
But Germany levelled in the 24th minute. India maintained the pressure and forced German defenders to commit a few errors in their own area. Rupinder Singh put India back in the lead with his absolute grounded shot three minutes before the lemon break to make it 2-1.
In the second half, an own goal by virtue of Indian defender's deflection put Germany back in the game three minutes later. But the finest moment for India came in the 52nd minute when India showed some imagination while taking penalty corner. Raghunath soon made it 3-2 but as it has happened often, Indians failed to hold on to the lead in the last 10 minutes .