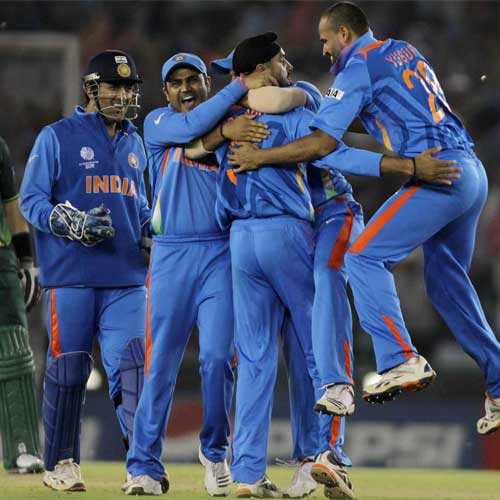 Annoy BCCI president N Srinivasan at your own peril. Haroon Lorgat will certainly agree.
According to conservative estimates, Cricket South Africa (CSA) –– of which Lorgat is CEO –– is set to suffer a whopping loss of 200 million rand (approximately US$20 million or Rs120 crore) simply because India are here on a 25-day tour, as against the original sojourn of 61 days.
MS Dhoni & co, who were initially set to play three Tests, seven ODIs and a couple of Twenty20 Internationals from November 18 to January 19, will now contest only three ODIs and two Tests from December 5 to December 30.
The truth is, the 'sins' Lorgat committed during his time as ICC chief executive have cost him and CSA dearly. It is widely held that Lorgat, a staunch critic of the BCCI and its anti-DRS (Decision Review System) stance, did not share cordial relations with the men who run the richest cricket body in the world. What irked Srinivasan even more was Lorgat's decision to join hands with IS Bindra –– a former advisor to the ICC, chief of the Punjab Cricket Association and a Lalit Modi sympathiser.
And to give you an idea of the extent of losses, here's an excerpt from a CSA document made available to dna: "On April 30, 2012, CSA reported "total comprehensive income" of ZAR295,579,000 for the 12 previous months. By contrast, for the 12-month period from April 30, 2010 to April 30, 2011, which, of course, encompassed an India tour to South Africa, CSA's revenue was ZAR727,472,000."
It's crystal clear: when Team India come calling once every four years, CSA makes merry. And during the years they don't, CSA's income goes down by over 400 million rand.
This correspondent spoke to Fanie de Villiers, one of the greatest South African pacers of the post-Apartheid era. The 49-year-old talks just like he used to bowl: fearlessly. And he minced no words while slamming N Srinivasan and Lorgat.
"It's not ego issues; it's testosterone-level issues," de Villiers thundered. "We struggle with the development of cricket in South Africa because our government does not give us money. There are over 25,000 schools for black kids. CSA and its sponsors support nearly 500 such institutions.
Our cricket is going to suffer ever more now. Most stadiums are incurring heavy losses. They need the support of our board. Not to mention the development of junior-level cricket and age-group cricket. You see these silly issues between two powerful administrators will not affect the salaried employees of CSA. It will affect the game at the grassroots. Egos have no place in sport. This is terrible," he said.