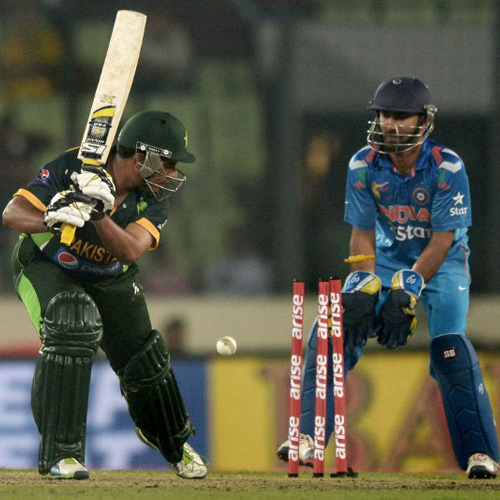 India will most likely play a full bilateral series against Pakistan in 2015, after a gap of 8 years. Pakistan's 'home games' will be played in the UAE.
The Pakistan Cricket Board (PCB) today laid before the International Cricket Council (ICC) a condition that it should be given at least six series against India between 2015 and 2023, if it has to support the revamped ICC Future Tours Programme (FTP) calendar. This condition is likely to be fulfilled.
India-Pakistan cricket has never been a smooth affair. Cricketing ties have been suspended many times right since the 1960s, due to happenings on the Indo-Pakistan border, several wars, terror attacks in India and the two countries' stance on Kashmir.
Moreover, cricketing ties between India and Pakistan have been opposed by right-wing groups in India, such as the Shiv Sena, several local political organisations and the Bharatiya Janata Party (BJP) in some cases. Consequently, Pakistan has not played against India in Mumbai (a stronghold of the Shiv Sena) for several decades. However, India has always played Pakistan in multi-nation tournaments such as the ODI and Twenty20 World Cups, the ICC Champions Trophy and the Asian Test Championship.
Here's a look at the status of Indo-Pakistan cricket since Indian Independence in 1947:
1948-1965: Pakistan became a member of the ICC in 1948 and their first tour was to India. Subsequent tours took place in 1955 and 1961. India won the 1952 test series, but the loss of a single match became a flashpoint for angry protests from home fans. In 1955 and 1961, the test series ended in a dull draw.
1965 India-Pakistan war: This was the second war between India and Pakistan, but the first which affected cricketing ties. India refused to play Pakistan for several years, and before normalcy could resume, another war occured.
1971 India-Pakistan war: India entered East Pakistan (now Bangladesh) in 1971 and freed it from West Pakistan's rule, thus creating a separate country of Bangladesh. This affected sporting relations between the two countries, and bilateral cricket was stopped. 1971 onwards, political relations would come to play a major role in whether India and Pakistan played cricket against each other.
1978: With Indira Gandhi out of power in India, the prospects of resumption of Indo-Pakistan cricketing ties became brighter. The two countries' Prime Ministers met and normal cricketing relations were restored. Pakistan toured India in 1979.
1984: India was on a tour of Pakistan in 1984 when tragedy struck back home as Prime Minister Indira Gandhi was assassinated. The tour was abandoned midway. However, since the assassination was not related to Indo-Pakistan politics, there was no snapping of ties. India and Pakistan continued to play each other during the 1980s and 1990s.
1999 Kargil war: The Pakistani team toured India for a test series immediately after Prime Minister AB Vajpayee's visit to Pakistan. The two-test series was thrilling, with an injured Sachin Tendulkar nearly taking India to victory in the first test, and Anil Kumble taking 10/74 in the second innings of the second test. The series was drawn 1-1.
However, the Kargil war took place immediately after this series, putting an end to cricketing ties between India and Pakistan once again.
2004: Indian PM AB Vajpayee 2003 peace initiative restored cricketing ties between the two countries. The 2004 India-Pakistan series in Pakistan was billed the Friendship Cup, and India won both the Test and ODI series. This series was remarkable for the welcoming attitude of the Pakistani fans, who were delighted to see India play Pakistan once again and cheered the Indian side as well.
Pakistan toured India in 2005, drawing the test series and winning the ODI series, and India visited Pakistan in 2006.
2008: Mumbai was hit by major terror attacks on November 26, 2008. The attacks were extremely daring and operations against the terrorists continued for three days. After this, India once again suspended cricketing ties against Pakistan.
2012-13: Pakistan finally toured India for a series in late 2012-early 2013, but this was not a full series as it involved just 3 ODIs and no test matches.
The adverse situation of terrorism in Pakistan has resulted in no country touring Pakistan since 2009, after terrorists shot at a bus carrying members of the Sri Lankan team and injured some players. Pakistan plays its 'home games' in the UAE ever since.
Besides the Kashmir dispute, four wars and cross-border terrorism, India-Pakistan series were viewed with extreme patriotic fervour by fans from both sides, until the 1990s. There have been reports of Pakistani players facing very hostile crowds on returning to Pakistan after losing a series in India. Conversely, Indian fans have vented their fury at the Indian team's losses to Pakistan too.
However, since the 2004 series, Indo-Pakistan cricket is being viewed more as a game and less as yet another war. With full ties set to resume in 2015, the debate in India about playing Pakistan is bound to begin once again.